Monday, April 11, 2016

Largest disposable cup mosaic: Vodafone India breaks Guinness World Records record

Lucknow, India -- History was made at Indira Gandhi Pratisthan in Lucknow; Vodafone India celebrated the launch of Vodafone SuperNet™ in the UP East Circle by creating a 627 sq. mtrs. (6746.5 sq.ft.) large disposable cup mosaic which sets the new world record for the Largest disposable cup mosaic, according to the World Record Academy.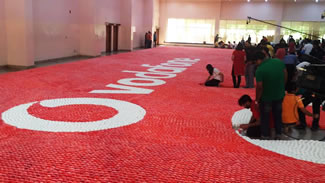 Photo: Vodafone India celebrated the launch of Vodafone SuperNet™ in the UP East Circle by creating a 627 sq. mtrs. (6746.5 sq.ft.) large disposable cup mosaic thereby becoming a World Record title holder. (enlarge photo)

The Guinness World Records world record for the largest bottle cap mosaic consisted of 3,614,468 bottle caps and was created by students at the Freiherr vom Stein School (all Germany) in Hessisch Lichtenau, Germany, from 23 to 26 June 2010. The mosaic had a total area of 3,124 m².

Guinness World Records also recognized the world record for the largest hat mosaic consisted of 1,861 caps which was achieved by New Era Cap Company Ltd (Global), at Bread and Butter tradeshow, in Berlin, Germany, on 6 July 2011. The mosaic read the New Era slogan, 'Fly your own flag' and measured 13.2 m in length and 5.5 m in height.

Vodafone SuperNet™ is a seamless network experience that empowers customers to remain confidently connected at all times, for their voice and data needs, in UP East circle.

250 employees of Vodafone UP East Circle created this mosaic using 140,000 disposable paper cups illustrating the iconic Vodafone logo and Vodafone SuperNet™.

This new record-breaking achievement by Vodafone UP East employees was completed in 4 hours, 15 minutes and 30 seconds.

Related world records:
Most people contributing to the same manuscript: Orange Romania sets world record

Largest trading card mosaic: Quentin Devine breaks Guinness World Records (VIDEO)

Longest gum wrapper chain: Gary Duschl breaks Guinness World Records record (VIDEO)

Largest replica bag: Malaysia breaks Guinness World Records record (VIDEO)

Largest bank card mosaic: MasterCard breaks Guinness World Records record


Largest mattress: Dolidol Maroc


Most people making heart-shaped hand gestures: Carrefour Belgium