Biggest auction of works by a single artist-world record set by Damien Hirst

LONDON, UK -- Multi-millionaire artist Damien Hirst wildly exceeded expectations with a sale of f pickled sharks, butterfly paintings and other pieces (218 items) for $200,752,179 (€140,160,487)-setting the world record for the Biggest auction of works by a single artist.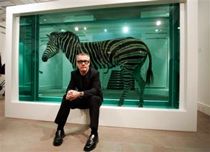 Photo: British artist Damien Hirst poses with his work 'The Incredible Journey' at an auction house in London / AP Photo-Sang Tan
(enlarge photo)
The turmoil engulfing global financial markets did nothing to dampen prices as moHirst took a risk by offering more than 200 pieces of new work through Sotheby's rather than a gallery. He said it was a more democratic way to sell art — and it also spared him a gallery's hefty commission.

According to the sale's organizers, this was the first time an artist had sold his work directly, bypassing art dealers who typically collect up to 40.0% of an auction's sales in commission fees.

But if buyers had stayed away, Hirst's global brand would have been tarnished. More than 700 prospective buyers packed the showroom for each of the three auction sessions. Others around the world bid by phone.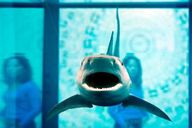 Photo: "The Kingdom," a tiger shark preserved in formaldehyde, sold for $17 million in the first session Monday evening. / AP Photo/Sang Tan
(enlarge photo)

"Fragments of Paradise," a confection of stainless steel, glass and manufactured diamonds, sold for almost $9.4 million, five times its pre-sale estimate.

Two of Hirst's butterfly paintings were sold for charity, for a total of more than $2.9 million.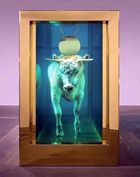 "The Golden Calf" — an embalmed calf with golden hooves and horns — fetched $18.5 million. / AFP photo (enlarge photo)

"Banks fall over, art triumphs," former Royal Academy chief Norman Rosenthal told the Guardian newspaper.

The most successful of the so-called "Young British Artists" who came to prominence in the 1990s, Hirst is famous for eye-catching works redolent of death and decay — pickled animals, rotting cows' heads, diamond-encrusted skulls.

He employs a large staff to help him make his works, and some critics had suggested his prolific output was devaluing the work.

There was little sign of that Monday.
Hirst, 43, said the results of the sale showed "the market is bigger than anyone knows." "I love art, and this proves I'm not alone and the future looks great for everyone," he said.

Last year the artist, who works with a team of about 200, sold a platinum skull encrusted with 8,601 diamonds for 50 million pounds in a private sale. It is thought to be the world's most expensive piece of contemporary art.

Auction houses have been appealing to "recession-proof" buyers in the Middle East and Russia, where record oil prices have boosted already massive fortunes, along with the super-rich in emerging economies such as India.

The previous record for a sale dedicated to a single artist was set in 1993 for works by Picasso, which went for a total of $20m (£11m at 2008 prices).

Wednesday, September 17, 2008