Monday, January 23, 2012

Youngest person to sail solo round the world: Laura Dekker sets world record (Video)

St Maarten, Netherlands -- Dutch schoolgirl sailor Laura Dekker, 16 years and four months old, arrived at a dock in St Maarten on January 21, a year and a day after she set out to sail single-handed around the globe - setting the new world record for the Youngest person to sail solo round the world, according to World Record Academy (www.worldrecordacademy.com).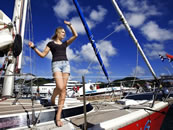 (enlarge photo)

The Guinness world record for the Yougest person to row any ocean solo was set by Katie Spotz (USA), who completed her 70-day paddle across the Atlantic east to west from Dakar, Senegal, to Georgetown, Guyana. She had set off on 3 January 2010, aged just 22 years 260 days.

Guinness World Records also recognized the world record for the Youngest person to sail the Atlantic solo, set by David Sandeman (UK), who sailed across the Atlantic singlehandedly between Jersey, UK, and Newport, Rhode Island, USA, at the age of 17 years 176 days in the 10.67 m (35 ft) long Sea Raider.

The previous world record holder was Australian Jessica Watson, who achieved it in May 2010, three days before she turned 17.

Teenager Laura Dekker completes her solo sail around the world telling reporters: "It was a dream and I always wanted to do it.".

Dekker, who left the island nearly a year ago to the day - January 20, 2011 - beat the previous world record by some eight months.
As she turns 17 on September 20, she had to complete her journey before September 16 to beat the record for the youngest sailor to make an unassisted world tour.

Born on a boat in New Zealand of a seafaring family, Dekker also lived on a boat in the Netherlands with her father Dick and dog Spot before setting out on her voyage.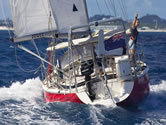 (enlarge photo)

"I can't really take in what I've done," the young sailor told a press conference held just minutes after her return to dry land.

"Sometimes I've asked myself what I was doing," she added after an emotional reunion with her parents and sister. "The sailing was always nice... I often saw dolphins . I enjoyed it a lot and I'm very happy," Dekker said.

Dekker, who finished her 43,450-kilometre voyage on Saturday afternoon at the Caribbean island of St Martin, coped with weeks of solitude, storms and piracy concerns while sailing an 11.5-metre yacht called Guppy, all the time trying to keep up with schoolwork.

''Today is the last time that my days start in an endless valley of waves and end in an endless valley of waves,'' she wrote in a recent post on her website.

"I'll spend the next few days cleaning the boat," the 38-feet ketch, called Guppy. After that it's back to school, she added.

Related world records:
Youngest person to ski to the South Pole: Amelia Hempleman-Adams sets world record (Video)

Youngest people to cycle the length of the Americas: twin brothers sets world record (Video)

Youngest to circumnavigate the globe: Jessica Watson

Youngest rower to cross an ocean solo: Katie Spotz

Youngest to sail solo around world: Zac Sunderland

Youngest passenger to fly in microgravity: Jules Nader

Youngest to solo airplane and helicopters on same day: Errick Smith

Monday, January 23, 2012