Saturday, September 8, 2012

Oldest message in a bottle: Andrew Leaper breaks world record (PICS)

LONDON, UK -- Andrew Leaper, a Scottish skipper of Lerwick fishing boat Copious, has found a bottle that has carried a message in the ocean for almost 98 years; he discovered the bottle trapped in his fishing net as he sailed east of Shetland, an island group northeast of the U.K. mainland; the bottle sets the new world record for the Oldest message in a bottle, according to the World Record Academy: www.worldrecordacademy.com/.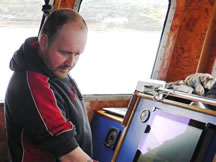 Photo: Fisherman Andrew Leaper, skipper of the Copious, found the Oldest message in a bottle — which was set adrift in 1914 — in his nets. Photo: Scottish Government/AP Photo (enlarge photo)

The Guinness world record for the oldest message in a bottle spent 97 years and 309 days at sea. A drift bottle with number card 646B, was recorded by Captain Brown (UK) as being released at 60 00.00'N 000 39.00'E on 10 June 1914. It was recovered by fisherman Andrew Leaper (UK), skipper of Lerwick fishing boat Copious, at 60 6.37'N 000 25.17'E on 12 April 2012.

Guinness World Records also recognized the world record for the most travelled toy mascot, set by a bear called Raymondo, owned by ISPY (UK), who travelled 395,605 miles (636,714.8 km) from 27 September 2009 to 3 September 2010, passing through 6 continents and 35 countries on his journey.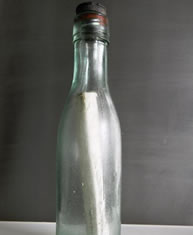 The bottle was originally launched back in June 1914 as part of a scientific study to map sea currents around Scotland.

(enlarge photo)

More than 1,800 bottles were released, but only 315 of them have been found according to the BBC. The bottle Anderson found in 2006 was part of the same scientific experiment.

All that it contained was a cream-colored postcard asking the finder to record the location where it was found and mail it back to the Glasgow School of Navigation for a minor reward.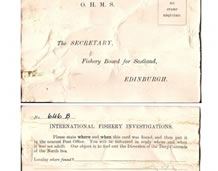 (enlarge photo)

Amazingly, it also turns out the exact same boat, the Copious, found the last record-setting message in a bottle. Though Leaper wasn't at the helm of the boat that time, his friend Mark Anderson hauled in the bottle. "It was an amazing coincidence," Leaper commented.

Andrew Leaper told the BBC, "It's like winning the lottery twice."

Related world records:
Longest time spent at sea: Bill and Laurel Cooper sets world record

Fastest yacht voyage around the world: Yachting crew set world record (Video)

Oldest person to swim the English Channel: Roger Allsopp (Video)

Fastest crossing of the Irish Sea on wakeboards: Irish cops (Video)

Smallest Power Boat to Cross The Atlantic: Florida brothers (Video)

First Woman to Sail Around the World Three Times: Dee Caffari (Video)

Longest distance covered on a jetski in 24 hours: Jeremy Burfoot (Video)

Fastest rowing across the Atlantic: Team Hallin (Video)

Largest gay and lesbian cruise: Atlantis Events

Fastest crossing of the English Channel on a wakeboard: Edward Bosso

First Women To Row Nonstop Around Britain: The Seagals

Longest voyage by a boat made of plastic bottles: Plastiki

Longest distance traveled on a wakeboard: Wake Nation team

Longest sea voyage: Reid Stowe

Youngest to circumnavigate the globe: Jessica Watson

Youngest rower to cross an ocean solo: Katie Spotz

Longest solo kayak journey: Helen Skelton

Youngest to sail solo around world: Zac Sunderland

Most miles paddled in 24 hours on Stand Up Paddle Board: Justin DeBree

Longest Stand Up Paddle board journey: Justin DeBree

Fastest circumnavigation using Biodiesel: Earthrace

Fastest vertical circumnavigation: Adrian Flanagan

Longest distance traveled on a personal watercraft in a 24-hour period: Mike Pagliccia

Longest voyage by a wave-powered boat: Kenichi Horie

Saturday, September 8, 2012 11:54 AM