Saturday, February 12, 2011

World's Most Attractive Flight Attendants: Virgin Atlantic's cabin crew (Video)

LONDON, England -- According to a survey of 1,000 people by the Business Travel and Meetings Show (BTMS), Virgin Atlantic's cabin crew received 53 per cent of the vote - setting the new world record for the most attractive flight attendants.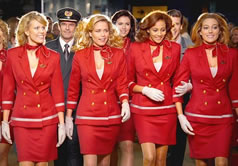 Photo:
Virgin Atlantic's flight attendants have been voted the most attractive in a new survey of travellers. (enlarge photo)

In fact Virgin's 'red hotties' swept the board with a massive 53 per cent of the vote with no other airline's cabin crew even coming a close second.

The Guinness world record for the largest single objects to be transported by air are the 37.23 m. (122.17 feet) NASA space shuttles, which are "piggy-backed" on top of modified Boeing 747 jets from alternative landing strips back to Florida's Cape Canaveral.

Guinness World Records also recognized the Fastest flight over Atlantic: 1 hr 54 mins 56.4 secs by USAF Major James V. Sullivan, and Major Noel F. Widdifield, flying a Lockheed SR-71A Blackbird eastwards.

The accolade has been attributed to their sexually charged global advertising campaign, which features Bond-style graphics, suggestive images, lots of attractive male and female crew and plenty of subtle innuendos.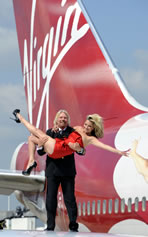 Top 10 most attractive airline cabin crew:
1. Virgin Atlantic
2. Singapore Airlines
3. Etihad
4. Emirates
5. Aer Lingus
6. Lufthansa

(enlarge photo)

Virgin's Director of Corporate Communications, Greg Dawson said, "We are delighted to be the number one choice."

Subscribe to our free RSS News feed to receive updates.

Related world records:
Largest burlesque dance: Virgin Holidays

First Women To Row Nonstop Around Britain: The Seagals (sponsored by Sir Richard Branson)

Largest passenger plane: Airbus A380

Most miles travelled by a passenger: Fred Finn

Longest nonstop flight in a lightweight plane: Arnold Ebneter

First person to cross the English Channel using helium balloons: Jonathan Trappe

Longest solar-powered flight by paramotor: the Cardozo family

Youngest passenger to fly in microgravity: Jules Nader

Youngest to solo airplane and helicopters on same day: Errick Smith

Fastest around the world flight: Caroll Ann Garratt and Carol Foy

Fastest coast to coast round trip: US pilots

Fastest team flight around the world: Swiss Pilots

Fastest transcontinental flight in a LSA: Matt Hansen and Jessica Scharle

Longest Cluster Balloon Flight: Jonathan Trappe

Longest distance flight in a helium balloon: David Hempleman

Longest distance flown in an autogyro: Norman Surplus

Saturday, February 12, 2011