Longest Journey by Skateboard-world record set by Rob Thomson



Longest Journey on Skates-world record set by Khoo Swee Chiow

[Jan 21]SINGAPORE-- Singapore adventurer Khoo Swee Chiow skated 6,088 kilometres in South East Asia in 94 days and set world record for the Longest Journey on Skates.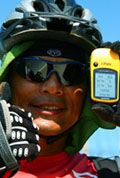 Khoo Swee Chiow began his journey on 20 October last year. Starting off in Hanoi, Vietnam, Khoo was in Cambodia, Thailand and Malaysia before arriving in Johor Bahru on Sunday. He returned to Singapore on Monday.

The previous record was 4,175 kilometres.

The adventurer said he used over 100 sets of wheels and two pairs of shoes for the journey. The first Singaporean to scale Mount Everest, Khoo Swee Chiow aims to write a book about his journey in the next six months.

Taking off his skates was a relief, but Khoo was mindful of the message of energy conservation he hoped to spread through his feats.

Khoo Swee Chiow said: "I've been to many beautiful places - Mount Everest, North Pole, South Pole. These are places that are disappearing fast, because of human activities. "So I would like to ask the media to help spread the message that we should all help to preserve these (places) for our future generations."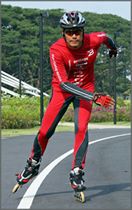 .
Singaporean adventurer Khoo Swee Chiow embarked on this mission in October of this year to tour throughout Asia on his skates with a primary aim of raising awareness on the importance of reducing energy consumption amongst individuals and companies.

(enlarge photo)

"With natural resources depleting rapidly across the globe, energy-conservation has never been more crucial. In fact, it has become increasingly necessary for someone to go the extra mile to draw attention to the seriousness of the matter," said Khoo Swee Chiow.

"With the support of Brocade, I will embark on this expedition to highlight the critical need for each of us to strive to become more environmentally-conscious."

As a member of the Green Grid, a non-profit consortium dedicated to advancing energy efficiency in data centers and business computing ecosystems, Brocade (Nasdaq: BRCD) recognizes the significance and importance of energy efficiency. This has been crucial especially with the increasing demand for green data centers around the world.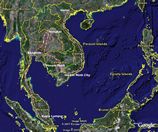 "Today, data centers and computer rooms across the globe consume approximately two percent of the world's energy, and will continue to grow on a daily basis," commented Deb Dutta, Vice President, Asia Pacific / Japan of Brocade.

(enlarge map)

"Through this sponsorship, Brocade hopes to contribute to protecting our environment by creating awareness for the importance of energy conservation and educating the public about it in the process."

Khoo Swee Chiow, who was one of the first Singapore representatives to scale Mount Everest in 1998, is also the holder of the existing World Record for the Longest Scuba Dive in a Controlled Environment.

He said of his endlessly supportive wife, Madam Tok Wee Leng: 'If I didn't have a wife like my wife, I wouldn't be able to do any of this.'
Mr Khoo, 43, said at a press conference at the Shangri-La Hotel: 'While not all of us will skate a distance of 6,000km, we can do something in our daily lives to protect our environment.' He cited installing energy-saving appliances at home and turning off the office lights at the end of the day as helpful habits.

Khoo Swee Chiow has set foot on both of the earth's poles, and in 2003, he was the first man in the world to ride a bicycle 8,066 kilometers from Singapore to Beijing, China, in 73 days.

Khoo's expedition is also sponsored by:
Shangri-La Hotels & Resorts, Keppel Corporation, Bods.Bodynits, Canon Singapore, Oakley, PowerBar and Skateline.

KHOO'S RECORDS
The Singaporean man has scored remarkable milestones in his career as a professional adventurer
* 2000: Officially said goodbye to office work as an IT engineer to become self-proclaimed "professional adventurer." He conquered seven major mountain summits in one year.
* 2002: Travel to the North Pole
* 2003: Cycle from Singapore to Beijing
* 2004: Swim the Malacca Channel
* 2005: World record for the longest distance scuba-dive
* 2006: Climb Mount Everest for an astonishing second time

Books: "Journeys to the Ends of the Earth"
"Singapore to Beijing in a Bike"

Link: Dare To Dream: Khoo Swee Chiow

[ Submit a world record ] [ World Record Certificate]
[ Book of World Records ] [ World Records Store ] [ Club ]



Fastest Jump Shooter in Billiards-Rocky Lane


Largest miniature railroad-Miniatur Wunderland


Fastest race around the 'World'-Rohan Veal