Largest Permanent Light and Sound Show-world record set by Hong Kong

HONG KONG, China -- Launched on the 23rd of December 2005, Hong Kong's 'Symphony of Light' has 33 participating buildings located on either side of Hong Kong's Victoria Harbour-setting the world record for the Largest Permanent Light and Sound Show.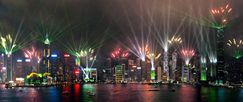 Photo:
The 14 minute performance aims to highlight the unity of architecture within Hong Kong while educating the audience on Hong Kong's history and cultural diversity. (enlarge photo)

The kaleidoscope of effects include 14,894 dynamic lighting fixtures, Stella Ray YAGS producing thousands of high powered laser beams, world class pyrotechnics and a sound simulcast which is broadcast from popular viewing locations including ferries travelling to and from the city; it starts on 8pm daily (under good weather).
Thirty-one participating buildings located on either side of Hong Kong's Victoria Harbour make up the "Circle of Light" as they explode nightly into a dazzling display of visual effect firepower.

The 17-minute performance aims to highlight the unity of architecture within Hong Kong while educating the audience on Hong Kong's history and cultural diversity.

The final show has taken over 3 years and 2 separate stages to complete. The final product is massive in contemporary context and the dramatic harbour location affords a tranquil and endless reflection of the effects incorporated into the 'new look' Hong Kong.

The entire "Circle of Light" installation uses more than 14,894 lighting fixtures controlled by 26,562 channels. The show consists of 30 DDP IIs generating a staggering 50 Galaxies with a capacity of 253,440 lighting channels alone, more than 82 Xenon searchlights producing over 1 million watts of light, over 2,624 Robotic Intelligent lights controlled by more than 40,000 control channels, 775,720 LEDs spread across 7km, and over 2.5 kilometres of Cold cathode (low-voltage neon) installation.

The kaleidoscope of effects include 14,894 dynamic lighting fixtures, Stella Ray YAGS producing thousands of high powered laser beams, world class pyrotechnics, and a sound simulcast. The simulcast can even be dialed into via mobile phone. The nightly show is programmed and coordinated via the Internet through Laservision's Digital Data Pump II show control systems, which have been installed in all of the major buildings.

The massive show took more than three years to complete. The Laservision team individually examined each building from a variety of angles and popular viewing locations.

The Hong Kong Shanghai Banking Corporation (HSBC) alone has incorporated 716 intelligent lights including 450 Color changing fluorescent fixtures in the glass stairwells, Martin Exterior 600 and 200 fixtures on five levels, eight searchlights and over one kilometer of LED lighting around the top of the building.

The participating buildings in the final show include; AIG tower, Bank of China, Central Plaza, Cheung Kong, CITIC, City Hall, Coliseum, Exchange Square 1, Exchange Square 2, Grand Stanford, Hard Court, Hong Kong Academy of Performing Arts, Hong Kong Convention and Exhibition Centre, Hong Kong Cultural Centre, Hong Kong Shanghai Bank (HSBC), International Finance Centre I, International Finance Centre II, Jardines House, Mass Mutual, Museum of Art, New World Centre, Panorama, Peking Road, Peninsula Hotel, Queens Government Offices, Star House, Sun Hung Kai, The Centre, The Hopewell Centre, The Peoples Liberation Army Headquarters, TST, and Empire Centre.

Related:
Biggest fireworks show on the barge-Fireworks do Brasil sets world record

Biggest New Year Party-world record set by Rio de Janeiro
Sunday, September 21, 2008