Tuesday, February 8, 2011
Largest gay and lesbian cruise: Atlantis Events sets new world record
WEST HOLLYWOOD, Calif., USA -- Atlantis Events, Inc., the world's largest company specializing in all-gay and lesbian cruises and resort vacations, announced that it will set sail on the largest gay and lesbian cruise ever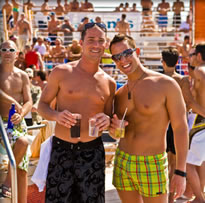 onboard Royal Caribbean International's Allure of the Seas, with nearly 5,400 gay and lesbian guests.

(enlarge photo)

This 20th anniversary sailing departs from Port Everglades in Ft. Lauderdale, Fla. The company also confirmed that it has chartered Allure of the Seas, the world's largest passenger ship, for another sailing in 2012.

The Guinness world record for the Largest marine engine was set by the Wärtsilä RT-flex96C, which is a turbocharged, two-stroke reciprocating diesel engine designed to power large container ships; it has a length of 27 metres (88 ft 7 in), is 13.5 metres (44 ft 4 in) high and weighs over 2,300 tonnes.

Guinness World Records recognized the record for most ships inaugurated in one day by one company is two and was achieved by Costa (Italy), in Genova, Italy.

"Our guest response to this first Allure of the Seas sailing was incredible, with the charter selling out in three weeks with no advertising whatsoever," Atlantis CEO Rich Campbell says. "We knew they would love this cruise, but had no idea just how strong the response would be."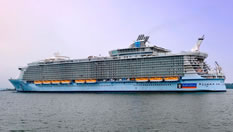 Photo: Royal Caribbean's 5,400-passenger Allure of the Seas, the world's newest, largest cruise ship, sets sail on the world's largest gay and lesbian cruise. (enlarge photo)

The 225,282-ton Allure of the Seas is so big it has "neighborhoods," such as a Boardwalk with a real carousel; an open-air Central Park with thousands of real plants and trees; a Royal Promenade as wide as a road; and an elaborate Pool and Sports Zone with four pools and activities including a zip line. There's even the first Starbuck's to be on a cruise ship.

Both this cruise and next year's cruise are the first and only charters of the Allure of the Seas.

The 2012 cruise will sail from Ft. Lauderdale on January 29, 2012 with stops in Cozumel, Costa Maya, Mexico and Labadee, Haiti. Customers can make bookings on this once-in-lifetime cruise starting February 23.

Subscribe to our free RSS News feed to receive updates.

Related world records:
Largest gay parade: Sao Paolo

Largest cruise ship: Oasis of the Seas

Most passengers carried by a cruise ship: Oasis of the Seas

Fastest crossing of the English Channel on a wakeboard: Edward Bosso

First Women To Row Nonstop Around Britain: The Seagals

Longest voyage by a boat made of plastic bottles: Plastiki

Longest distance traveled on a wakeboard: Wake Nation team

Longest sea voyage - Reid Stowe

Youngest to circumnavigate the globe - Jessica Watson

Youngest rower to cross an ocean solo - Katie Spotz

Longest solo kayak journey - Helen Skelton

Youngest to sail solo around world - Zac Sunderland

Most miles paddled in 24 hours on Stand Up Paddle Board - Justin DeBree

Longest Stand Up Paddle board journey - Justin DeBree

Fastest circumnavigation using Biodiesel - Earthrace

Fastest vertical circumnavigation - Adrian Flanagan

Longest distance traveled on a personal watercraft in a 24-hour period - Mike Pagliccia

Longest voyage by a wave-powered boat - Kenichi Horie

Tuesday, February 8, 2011