Wednesday, August 17, 2011

Fastest crossing of the Irish Sea on wakeboards: Irish cops set world record (Video)

CORK, Ireland -- Gardai (Irish policemen) Liam Phillips, David White, Brian Callanan, Anthony Daly and Sergeant Hugh Twomey from Mallow, Co. Cork, Ireland, successfully Wakeboarded from Rosslare, Ireland to Fishguard, Wales (62 miles) in a time of 5 hours and 18 minutes , setting the world record for the Fastest crossing of the Irish Sea on wakeboards (team).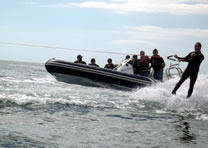 Photo: Five Gardaí from Community Policing North Cork set a new world record by wakeboarding from Rosslare to Fishguard. Liam Phillips during the World Record attempt. Photo by: John Parker (enlarge photo)

The Guinness world record for the fastest crossing of the English Channel by wakeboard is 2 hr 2 min and was achieved by Edward Bosson (UK), who travelled from Dover Beach, UK, to Carn-aux-Oeufs, France.

Guinness World Records also recognized the world record for the record for the longest ramp jump on a wakeboard (male): 15 m (49.2 ft), set by Jérôme Macquart (France).

Garda David White said: "We are just delighted to be here and to have done it. We're stiff and sore but it was so worth it."

The challenge was completed in a relay fashion with each Wakeboarder spending 10 minutes in the water before being replaced by the next.

The event started at Rosslare Harbour, Ireland, and was completed at Fishguard Harbour, Wales.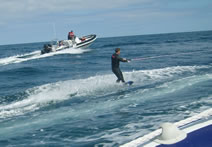 Photo: David White during the world record attempt. Photo: John Parker (enlarge photo)

The 62 mile stretch of sea between Rosslare and Fishguard provided the challenge as the gardai grappled with the cold sea and the rough waves.

Accompanied by boats from Mallow Search and Rescue, the team completed the charity event for Special Olympics Munster.

Sponsorship cards are available in every Garda Station in Ireland so that you can show your support for this initiative. In addition you can make a donation online on www.specialolympics.ie/wakeboard

Avid wake-boarder Garda David White said "we are stiff and sore but it was so worth it."

When the team reached Fishguard, members of the Welsh Police organised a barbecue in their honour and Garda Daly said they were delighted with the hot food.

Inspector Senan Ryan of Mallow Garda Station said: "I really don't think the lads have yet realised just what they have achieved. We are all very proud of them."

The world record was sponsored by:
Cavanaghs of Charleville, Topaz and
CH Marine.

Related world records:
Smallest Power Boat to Cross The Atlantic: Florida brothers (Video)

First Woman to Sail Around the World Three Times: Dee Caffari (Video)

Longest distance covered on a jetski in 24 hours: Jeremy Burfoot (Video)

Fastest rowing across the Atlantic: Team Hallin (Video)

Largest gay and lesbian cruise: Atlantis Events

Fastest crossing of the English Channel on a wakeboard: Edward Bosso

First Women To Row Nonstop Around Britain: The Seagals

Longest voyage by a boat made of plastic bottles: Plastiki

Longest distance traveled on a wakeboard: Wake Nation team

Longest sea voyage: Reid Stowe

Youngest to circumnavigate the globe: Jessica Watson

Youngest rower to cross an ocean solo: Katie Spotz

Longest solo kayak journey: Helen Skelton

Youngest to sail solo around world: Zac Sunderland

Most miles paddled in 24 hours on Stand Up Paddle Board: Justin DeBree

Longest Stand Up Paddle board journey: Justin DeBree

Fastest circumnavigation using Biodiesel: Earthrace

Fastest vertical circumnavigation: Adrian Flanagan

Longest distance traveled on a personal watercraft in a 24-hour period: Mike Pagliccia

Longest voyage by a wave-powered boat: Kenichi Horie


Wednesday, August 17, 2011