Tuesday, December 6, 2011

Most expensive car crash: Japan's multi-Ferrari crash sets world record (Video)

Shimonoseki, Japan -- Eight Ferraris, a Lamborghini and three Mercedes Benzs - as well as two Toyotas were part of a 14-car crash in in Shimonoseki, south-west Japan, that wrecked 4,1m USD worth of vehicles - setting the new world record for the Most expensive car crash, according to World Record Academy (www.worldrecordacademy.com).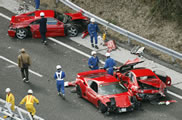 Photo: Police officers examine damaged Ferrari cars at the site of a traffic accident on the Chugoku Expressway in Shimonoseki. Photo: Kyodo News, via AP (enlarge photo)

The Guinness world record for the First car with a constant crash-avoidance system was set by the Swedish car maker Volvo, which has released in 2008 the first car to constantly monitor the possibility of – and then avoid – a nose-to-tail crash.

Guinness World Records also recognized the world record for the First plane crash caused by a crocodile, set by the crash of a Filair internal flight in DR Congo, which killed 20 passengers and crew; it was caused by a crocodile smuggled on-board by a passenger.

Local police officials were quoted as saying that they had never seen so many expensive cars in one place, much less involved in a single accident.

The cars appeared to be part of an outing of luxury automobile enthusiasts, traveling north together from the island of Kyushu to a festival in the city of Hiroshima, on the southern end of the main island of Honshu.

As the convoy sped through rain in the western prefecture of Yamaguchi, one of the Ferrari drivers, trying to change lanes, struck the median and spun out of control. Evasive maneuvers by other cars, which also included two Toyotas, sent them smashing into each other.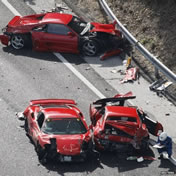 Photo: Reuters (enlarge photo)

Bright red sports car debris was dramatically strewn across the highway, which was closed for six hours by police as the wrecked remains of the convoy were cleared away.

Among those being questioned by police is a 60-year-old self-employed man, from Fukuoka prefecture in southern Kyushu, who may face charges for his role in the crash.

The driver, who is thought to have been leading the luxury car convoy on its journey from Kyushu to Hiroshima, is believed to have lost control of his red Ferrari while switching lanes.

Speeding has been cited by police as one possible cause of the accident, with convictions for dangerous driving resulting in an accident incurring a prison sentence of up to three months or a fine of up to Y100,000 (£820).

"We will be questioning the 14 drivers and their customers," said a spokesman for Yamaguchi Police, which is investigating the crash.

"Ten people were injured in the crash but they have all been released from hospital. These drivers weren't going to a car event. They were just driving. They are friends and they wanted to drive to Hiroshima."

One local Ferrari dealer from Kyushu, who was once visited by the driver of the red 353 Ferrari involved in the crash, warned against the dangers of luxury cars speeding in convoy.
"Normally, if we organise an event, we always make sure there are staff driving in the middle and front, to ensure people don't go too fast and start speeding.
"But these were just individual car owners. It was very dangerous."

Mitsuyoshi Isejima, executive officer for Yamaguchi Prefecture's Expressway Traffic Police Unit, went so far as to describe the luxury convoy of car owners as "a gathering of narcissists".

Related world records:
Most expensive car: Bugatti Veyron (Video)

Most Expensive Yacht: "History Supreme" (Video)

Most Expensive Motorcycle: House of Thunder

Most expensive Buick Roadmaster: Hot Web Inc.

Most expensive license plate: Abdulla al Mannaie sets world record

Highest speeding fine: Ferrari Testarossa driver sets world record

Tuesday, December 6, 2011