Longest Unescorted oceanic crossing in flats boat
[May 6] New York Harbor / About 7 years ago, Ralph Brown began an earnest approach to boat building centered on the concept of building a boat that could cruise the shallow waters of Florida's Gulf coastal areas, as well as handle the rough blue water seas to reach the middle Gulf fishing grounds.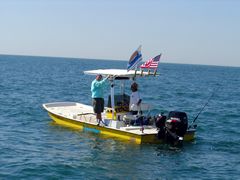 Since the beginning of Dream Boats, Inc. Brown has been passionate about his boat designs, so passionate that he's attempting to prove that his latest boat, the Intruder 21, is the World's most seaworthy flats boat. Thus comes his daredevil publicity stunt: to take his 21-foot flats boat on a 1,400-mile oceanic voyage.
A flats boat by definition is an open fishing boat that can operate with the engine down in less than a foot of water. This particular flats boat, the Intruder 21, can operate in less than 6 inches and still handle a rough chop.
Ralph Brown and his brother Bob, are also attempting to set a new world record for the longest unescorted oceanic crossing in a flats boat. So at 9:00 am, April 30th, the journey began.
The two brothers left from Atlantic Beach, North Carolina with the plan to cross over to Bermuda, then continuing on to New York Harbor, over 1,400 miles of open ocean.

Also on board the Intruder 21, is over 2000 pounds of fuel, nearly 300 gallons, exposure suits, a satellite phone, infrared video cameras, and an electric radio beacon that sends out distress signals if it gets wet.

After going to Bermuda the journey will then take them on to New York Harbor, and dock at the Liberty State Park, (Statue of Liberty State Park), in Jersey City, New Jersey at approximately 8:30 a.m., Sunday May 6th, Friday May 11, 2007.

1.Brothers set world record during flats boat voyage to Bermuda



Media reports: Soundings Magazine