Longest Parade of Jaguar cars set world record

[June 28] Attingham Park,Shrewsbury,UK--Over 200 Jaguar cars gathered at Attingham Park in Shrewsbury on Sunday 24 June to set a new World Record for the longest parade of Jaguar cars. The event took place at Attingham Park and coincided with 60 years of the National Trust at the estate. About 700 spectators turned out to watch.

The procession was organised by local Jaguar dealer Hatfields Shrewsbury, and included current and vintage models from the luxury marque, with classic E-Types and potent new XKR sports cars among the 218 vehicles in attendance.

The Jaguars were driven for two miles in a continuous line towards Uffington in an attempt to break a world record.

Tony Randall, president of the Chamber of Commerce for Shropshire officially opened the event, as the convoy of cars set off from the elegant National Trust property. Drivers travelled along the four-mile route to Uffington to set the new record. Upon completion of the parade, those taking part returned to Attingham Park to be greeted by a champagne reception and hog roast, laid on by Hatfields.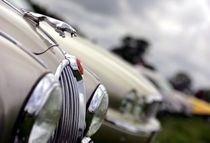 The event was run by Hatfields Jaguar in Old Potts Way, Shrewsbury. Sales manager Craig Petty said it was to raise money for the Shropshire Air Ambulance. He said: "It went very well yesterday. We just have to verify all the numbers but we had about 230 cars and we have broken a record.
"We raised just over £400, which is great. The weather stayed off us and it was a superb sight." People in Uffington stood outside their houses watching all the cars go past.