Wednesday, May 9, 2012

Longest distance driven on one tank of fuel: Helen and John Taylor set world record (PICS)

STERLING, VA, USA-- John and Helen Taylor managed to drive a stock 2012 Volkswagen Passat SE TDI Clean Diesel vehicle equipped with a six-speed manual gearbox for an impressive 1626.1 miles (2,617 kilometers) through nine states on one tank of fuel - setting the new world record for the Longest distance driven on one tank of clean diesel fuel, according to World Record Academy: www.worldrecordacademy.com/.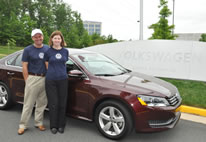 Photo: John and Helen Taylor managed to cover 2456km between Houston, Texas, and Sterling, Virginia, without filling the tank of the Volkswagen Passat 2.0 TDI they were driving. This equates to an average fuel consumption of 2.8 litres per 100km in what they call real world driving conditions and with ultra-low sulphur diesel. (enlarge photo)

"We're excited to have broken the record for the longest distance driven on one-tank of fuel," said John Taylor.

"The Passat TDI was the perfect car for the trip. It offers plenty of interior and cargo space, yet is frugal enough to help us achieve this record."

John and Helen Taylor managed to drive the diesel-powered Passat for an impressive 1626.1 miles (2,617 kilometers) through nine states on one tank of fuel improving the previous world record held by a VW Passat 1.6 BlueMotion diesel (1526.6 miles) in Europe by 99.5 miles (160.1 kilometers).

The couple began their journey on May 3, 2012 in Houston, Texas and finished on May 5, 2012 in Sterling, Virginia.

VW says that in order to make the drive as realistic as possible, they added 120 pounds of luggage and drove only during daylight hours to simulate normal traffic conditions.

They each took turn on the wheel and didn't drive more than 14 hours a day.

Over the course of three days, John and Helen Taylor achieved an average fuel economy of 84.1 mpg (2.8 lt/100km), which VW says comes to 4.65 cents per mile.

Prior to the drive, the speedometer and odometer were calibrated by a state certified testing station in Houston, Texas.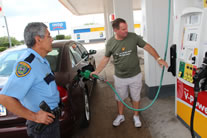 Photo: Law enforcement officers from the city of Houston, Texas oversaw validation of mileage, fuel fill-up, and gas tank sealing at the beginning of the drive. (enlarge photo)

A Loudoun County, Virginia Sheriff's Deputy verified completion of the drive and mileage prior to removing the fuel tank seal.

The Guinness world record for the Lowest fuel cosumption - 48 US States (non-hybrid car) was set by Helen and John Taylor (both Australia), who achieved a fuel consumption of 529.28 litres (139.82 US gal) for an average of 3.46 l/100 km (67.90 US mpg) while driving a 2009 VW Jetta TDI powered with Shell Ultra Low Sulfur Diesel over 15,297 km (9,505 miles) through all 48 contiguous US States.

Guinness World Records also recognized the world record for the Lowest fuel consumption driving around Australia, set by John and Helen Taylor (Australia), who drove around Australia covering a distance of 14,580 km (9,059 miles) on just 453.94 litres (99.85 gal) of Shell diesel, in a Peugeot 308 HDi. This equals a fuel consumption of 3.13 l/100 km (90.75 mpg).

The Passat's 2.0-liter TDI Clean Diesel inline four-cylinder engine produces 140 horsepower and 236 pound-feet of torque and with a manual transmission delivers an EPA estimated fuel economy rating of 43 mpg on the highway.

The TDI engine is equipped with a Selective Catalytic Reduction System (SCR) that fulfills emissions requirements in all 50 states. The Passat -- built at the world's only LEED Platinum certified automotive factory in Chattanooga, TN -- was named Motor Trend's 2012 Car of the Year.

"The Passat was engineered and designed to be a comfortable yet fun to drive alternative in the midsize segment. The TDI Clean Diesel version unites driving dynamics and fuel efficiency that isn't found in the competitive set," said Rainer Michel, Vice President of Product Strategy, Volkswagen of America, Inc.

"We're honored that the Taylors chose the 2012 Passat TDI as the vehicle to set this outstanding distance record. Their record shows just how economical the Passat TDI can be in the right hands."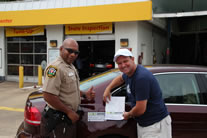 (enlarge photo)

The Taylors have made a career out of driving efficiently and conducting workshops globally on fuel-efficient driving techniques.

They have collected more than 90 world fuel economy and vehicle-related records from drives around the globe.

Related world records:
Lowest fuel consumption across the US: John and Helen Taylor

Most fuel-efficient hybrid car: Toyota's Aqua sets world record (Video)

Most efficient electric car - DeLaSalle students

Longest electric car journey - Mira EV

Cleanest Sports Car - Lotus Elise

Youngest person to have built an electric truck - Deitrich Ludwig

Most Advanced Horse-Drawn Carriage - Jeremy Dean

Fastest Bio-fuel Powered Car - E85 Viper

Fastest electric vehicle - Altairnano

Fastest circumnavigation using Biodiesel - Earthrace

Wednesday, May 9, 2012 4:31 PM