Friday, October 1, 2010

Largest Parade of Hearses - Just Hearse'N Around sets world record

HELL, Mich., USA--The annual Just Hearse'N Around international hearse enthusiasts club lined 43 hearses in procession from Hell, Mich. to the Terrorfied Forest north of Pinkney, Mich. - setting the new world record for the Largest Parade of Hearses.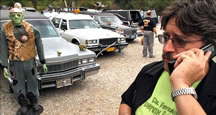 Photo: Organizer Steve Frey talks with his mother via cellphone to assure her that his effort to beat the world record for number of hearses in a single procession will continue in spite of intermittent rains. Photo by: Alan Ward/AP (enlarge photo)

The club often has more than 50 hearses show up for the annual event that started informally in 2000, followed by the formal procession that got started in 2002.

They ended up in Hell, Mich., "for the fun of it."

Some club members drive their hearses year-round or take them to car shows or cruises.

The Livingston County Daily Press & Argus of Howell reports that the gathering to break the record went on despite intermittent rains.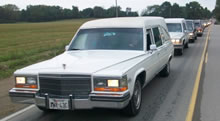 (enlarge photo)

Steve Frey, a member of Just Hearse'N Around, said most club members love Halloween and aren't creeped out by the vehicles. No one has "ever died in a hearse," he said "They're dead when they get there."

The vast majority of members, he said, don't have professional experience as hearse drivers or morticians. They simply love Halloween and hanging out with other hearse enthusiasts. Members of the club meet at several statewide car shows each year.

Online: Just Hearse'N Around

Subscribe to our free RSS News feed to receive updates.

Related world records:
Biggest coffin - Eternity restaurant

Largest Urn - Richard Cohen Landscape & Construction Inc.

Largest Mazda MX-5 Parade - Essen parade

Largest Parade of Emergency Vehicles - Lookout Fire Co. Parade

Longest line of scooters - UK scooter riders

Largest boat tie-up - Lake Cumberland Raft Up 2010

Largest kayak and canoe flotilla - 'Paddle at the Point'

Largest Parade of BMW Motorcycles - Ride For The Cure

Largest parade of Maruti Suzuki Swift - MSIL

Largest Chevy Truck Parade - Heinrich Chevrolet

Largest Ford Parade - Ford Motor Company of Southern Africa

Largest Alfa Romeo Parade - Allams Alfa Romeo

Longest parade of electric vehicles - Bay Harbor

Largest ATV parade - ATV Association of Minnesota

Largest parade of mobility scooters - Hervey Bay

Most fire trucks in a parade - Casselton parade

Largest Parade of Mitsubishi Lancer Evolutions - Mitsubishi Lancer Register

Largest number of boats on an inland waterway-Gippsland Lakes

Most tractors in a parade - Marion

Longest Parade of Jaguar cars set world record

The most man-powered boats in the water

Largest boat tie-up - Lake Cumberland Raft Up 2010

Largest kayak and canoe flotilla - 'Paddle at the Point'

Largest Parade of BMW Motorcycles - Ride For The Cure

Largest parade of Maruti Suzuki Swift - MSIL

Friday, October 1, 2010