Largest car mosaic-world record set by Subaru enthusiasts

BANBURY, England -- 1086 Subaru owners have celebrated the life of Colin McRae by creating a sign almost half a mile long and made up of 1086 Subarus spelling out COLIN MCRAE and setting the world record for the Largest car mosaic.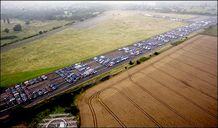 Photo: At the Prodrive headquarters, 1,086 Subarus were arranged to spell McRae's name and form the Scottish flag, stretching more than half a mile in length and setting a world record. Photo courtesy of ProDrive (enlarge photo)

A second world record was set for the largest parade of cars as the Subarus left from the Prodrive test track

Colin McRae was the first Briton to win the World Rally Championship Driver's title and helped the Prodrive-led Subaru factory rally team win three straight WRC Constructors' titles. He was killed in a helicopter crash in September 2007.


Photo: A convoy, which at its peak stretched 30 miles with an estimated 1100 Subaru cars, left Colin's home town of Lanark on Saturday morning, led by his father Jimmy McRae. (enlarge photo)
Nine hours and 300 miles later, it arrived at Prodrive's headquarters in Banbury, having been cheered along the way by thousands of fans who stood on every available motorway bridge on route.

"Literally every bridge had people waving and cheering us along with many hanging the Saltire from the railings." said Grant Hendry, who led the McRae Gathering convoy. "It turned what was an already memorable event into a truly amazing and emotional occasion.

In a fitting finale to the event, a sign almost half a mile long and made up of 1086 Subarus spelt out COLIN MCRAE and the Scottish Saltire in a new official World Record for the Largest car mosaic– smashing the previous record by more than 800 cars.

The cars then broke a second World Record by creating the largest parade of cars as they left the Prodrive test track.

It is estimated that the event has raised nearly £40,000 ($103,000) for the McRae charities.

Colin McRae Subaru Gathering

Colin McRae - The official site of Colin Mcrae

The official Colin McRae sportswear


Video: McRae Gathering Aerial View Car Mosaic


Video: Colin McRae Memorial Convoy (Gathering)


Saturday, September 6, 2008