Tuesday, November 7, 2017

Most drones piloted at the same time by children: world record set by Ated4Kids (VIDEO)

LODRINO, TI, Switzerland -- The new world record for the Most drones piloted at the same time by children was set by Ated4Kids and Andrea Perotti at Aeroporto di Lodrino, Switzerland, on September 23, 2017, according to the World Record Academy.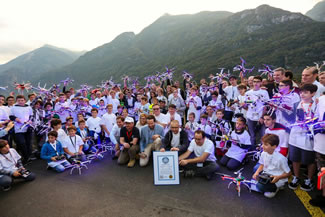 Photo: Andrea Perotti (enlarge photo)

"This project was born with the intention of allowing boys between the ages of 8 and 15 to approach the world of professional drones by following them in the construction of a drone, starting from a kit and giving them insights into the components, laws and drone driving, says Andrea Perotti, the project's coordinator.

"Each boywas accompanied by a parent who actively participated throughout the duration of the project. The secondary objective was to reach the maximum number of boys who at the end of the course can fly their drones at the same time and then attempt to establish a record."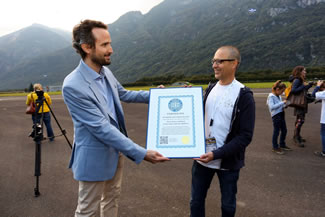 Photo 2: On behalf of the World Record Academy, the world's largest certifying organization, the new world record was verified & certified 'on-the-spot' by Mr. Cattaneo Gianni (left), a Lugano-based attorney-at-law at "Cattaneo & Postizzi". (enlarge photo)

The wold record was sponsored by:
Ruag - https://www.ruag.com/en
FAULHABER:
www.faulhaber.com/en/faulhaber-home/
Banca Stato - https://www.bancastato.ch/
TI Traduce - http://www.titraduce.ch/



Related world records:
World's first passenger drone: EHang 184 sets world record (VIDEO)

World's first skydive from a drone: world record set by Ingus Augustkalns (VIDEO)

First Amazon Prime Air drone delivery: UK sets world record (VIDEO)

First commercial pizza delivery by drone: Domino's sets world record (VIDEO)

Fastest consumer drone: George Matus sets world record (VIDEO)

Most drones airborne simultaneously: Drone display breaks Guinness World Records record (VIDEO)



Largest mattress: Dolidol Maroc


Longest playable stringed musical instrument: CapitaLand Singapore

Largest display of toy windmills: energis GmbH


Most People Waving Hands Simultaneously: AG Insurance