Longest underwater swim-world record set by Dave Mullins

[Sep 25] WELLINGTON, New Zealand-- Freediver Dave Mullins set a world record for the longest underwater swim, after swimming 244 metres underwater on one breath in a suburban Wellington pool at the weekend.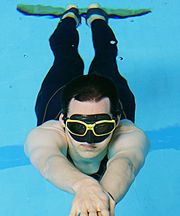 Dave Mullins swam 244 metres in 4 minutes, two seconds, adding 18 metres to the World record he set on Friday.

Using a mono fin, Mullins swam nonstop for four minutes and two seconds, completing nearly five lengths of the 50-metre Naenae pool. "You have to get it pretty much spot on," he said. "You're after maximum efficiency, so the turns are pretty important."
Mr Mullins says he had been training up to five days a week leading up to the event, using a slow-swimming technique. But he says it is an exhausting exercise, as it causes the leg muscles to build up lactic acid.

Mullins said that though he was an "unusually slow" swimmer, the sport was all about lasting the distance.

American judge Grant Graves said yesterday's effort at the freediving competition - hosted for the first time in New Zealand - was one of the biggest increases in a world record he had heard of. "It was a very impressive swim."

Mullins said it would take a few days to recover from the rigours of busting world records because of the buildup of lactic acid in his legs.
Mullins is preparing for the Freediving World Championship in Egypt, where he will compete in an ocean event in which divers go as deep as they can without breathing equipment.

Mullins practises holding his breath as part of his training, making his muscles work while oxygen-starved. Earlier this year he set a national freediving record, becoming just the fifth man to reach 100 metres.


Fastest single-turbine engine plane