Thursday, May 24, 2012

Highest skydive without parachute: Gary Connery sets world record (PICS & Videos)

Henley-On-Thames, UK -- Gary Connery, 42, from Henley-on-Thames, Oxfordshire, a veteran film stuntman, leapt 2400 feet and safely land without using a parachute; he did it with the aid of a specially designed "wing suit" and about 18,600 cardboard boxes that broke his fall, setting the world record for the Highest skydive without parachute, according to the World Record Academy: www.worldrecordacademy.com/.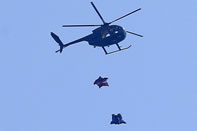 Photo: Stuntman Gary Connery, wearing a specially developed wingsuit, prepares to land among cardboard boxes in England field. Photos: Reuters (enlarge photo)

The Guinness world record for the most tandem parachute jumps in 24 hours at the same location was 130 organized by Khalsa Aid and Skydive Hibaldstow (both UK) at Hibaldstow Airfield in Hibaldstow, Lincolnshire UK.

Guinness World Records also recognized the world record for the fastest speed reached in a wing suit: 363 km/h (225.6 mph), achieved by Shinichi Ito (Japan) over Yolo County, California, USA.

The father-of-two, a veteran of 880 sky dives, 450 base jumps and dozens of film and television roles, jumped above Ridge Wood, Bucks to become the first person to jump from such a height and live without deploying a parachute.

Connery, 42, leapt out of a helicopter above Henley-On-Thames, England, with about 100 onlookers cheering him on, according to reports.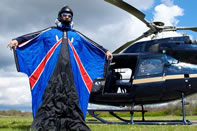 (enlarge photo)

The stunt lasted about 50 seconds, and with five seconds left, Connery spread his arms and legs open, resembling a flying squirrel.

Doing so helped to slow him down from about 80 miles per hour to a glide speed of 50 miles per hour and a vertical falling speed of 15 miles per hour, The Telegraph newspaper reported.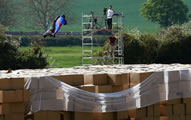 (enlarge photo)

The father of two accomplished the feat thanks to his specially designed "wing suit" and about 18,600 cardboard boxes that broke his fall, Sky News reported.

"It was so comfortable, so soft," Connery told Sky News after sailing head first into the cardboard landing pad.

"My calculations obviously worked out and I'm glad they did."


Related world records:
Skydiving world records

Largest rope swing: Devin Graham and his friends sets world record (HD Video)

Fastest to jump over three moving cars: Aaron Evans sets world record (Video)

Most consecutive formation loops: The Blades (Video)

Oldest woman to bungee jump: Frances Gabe (Video)

Highest Blob Jump: Paintballfarm (HD Video)

First BMX triple Backflip: Jed Mildon (HD Video)

Longest ramp jump: Tanner Foust (HD Video)

Largest balloon cluster flight: National Geographic (Video)

Highest cable wire walk: Swiss acrobat Freddy Nock

Most bungee jumps in one hour: James Field

Highest bicycle ride: Nik Wallenda
Highest jump on roller skates: Taig Khris
Smallest Wingwalker: Kiran Shah
Oldest bungee jumper: Mohr Keet
Longest jump in a Harley-Davidson: Seth Enslow
Longest Jump in a Rally Car: Travis Pastrana
Youngest wing-walker: Tiger Brewer
Biggest skydiving formation: US skydivers
Oldest wing walker: Tom Lackey
Highest jump on a motorcycle: Ronnie Renner
Fastest jet-pack flight: Eric Scott
Highest motorcycle jump: Robbie Maddison
Highest Bicycle Ramp Jump: Timo Pritzel and Joscha Forstreuter
Fastest Text Messaging While Skydiving: Samsung Mobile
Back flip in a wheelchair: Aaron Fotheringham
Highest and longest bike-ride: Nick Wallenda
Most bungee jumps in 24 hours: Mike Heard
High-wire walking world record
Longest mid-air suspension: Dixie Dooley
Most roll-downs from aerial silks: Brandon Pereyda

Thursday, May 24, 2012 9:54 AM