Fastest Text Messaging While Skydiving-world record set by Samsung Mobile

DALLAS, TX, USA -- A team of professional skydivers text messaged while freefalling from 12,000 feet outside the Los Angeles city limits at the Samsung Mobile XTREME TEXTING event-setting the world record for the Fastest Text Messaging While Skydiving.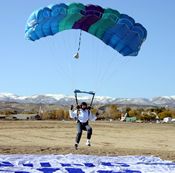 Photo: The high-flying daredevils had to accurately text message the phrase: "The razor-toothed piranhas of the genera Serrasalmus and Pygocentrus are the most ferocious freshwater fish in the world. In reality they seldom attack a human." (enlarge photo)

The skydivers had only one minute to text message the phrase while freefalling before pulling their parachutes and gliding to the ground.

The team of 10 skydivers used a variety of Samsung Mobile messaging phones during this challenge, including the Samsung Propel(TM), Samsung Gravity(TM), Samsung Rant(TM), Samsung Alias(TM) and Samsung Messager(TM). Samsung Mobile created XTREME TEXTING as a unique way to promote its new lineup of text messaging phones.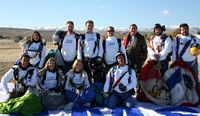 Once all 10 skydivers were safe on the ground and their phones were checked for accuracy, the video shot by two aerial videographers and two additional videographers on the ground was sent for official judging.
(enlarge photo)

About Samsung Telecommunications America
Samsung Telecommunications America, LLC, a Dallas-based subsidiary of Samsung Electronics Co., Ltd., researches, develops and markets wireless handsets and telecommunications products throughout North America.
For more information, please visit www.samsungwireless.com.
Related world records:

Youngest Skydiver-world record set by Valentina Mihanciu

Skydiving after heart surgery-world record set by Laura Rites

Skydiving from the highest peak-world record set by High and Wild

Oldest woman paraglider-world record set by Peggy McAlpine

Longest Skydive Jump-world record set by romanian skydivers

Largest Freefalling Sky Dive Cross In The World

more similar world records...

Sunday, December 21, 2008