Thursday, September 26, 2013

Heaviest weight lifted by bench press: Toqua Ticeahkie breaks Guinness world record (VIDEO)

LAWTON, OK, USA -- Toqua Hanai Ticeahkie, an enrolled member of the Comanche Nation of Oklahoma and former professional arena football player, lifted 225 lbs. in a single set for 58 repetitions within a minute for a total of 13,050 lbs. weight lifted on the bench press in Lawton, Oklahoma at the Comanche Nation Tribal Complex, during an event to support diabetes Awareness month, breaking the previous Guinness World Records' record and setting the new world record for the heaviest weight lifted by bench press in one minute, according to the World Record Academy: www.worldrecordacademy.com/.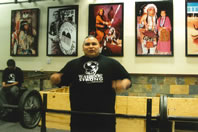 Photo: Toqua-Hanai Ticeahkie, an enrolled member of the Comanche Nation of Oklahoma and former professional arena football player, lifted 225 lbs. in a single set for 58 repetitions within a minute for a total of 13,050 lbs. weight lifted on the bench press in Lawton, Oklahoma at the Comanche Nation Tribal Complex to set a new world record for Heaviest weight lifted by bench press in one minute. (enlarge photo)

The Guinness World Records' record for the most accumulative weight bench pressed in one hour is 305,300 lb (138,480 kg). The record was set by Eamonn Keane (Ireland) at World Gym, Marina del Rey, California, USA.

Guinness World Records also recognized the world record for the Heaviest weight lifted in one hour bench press; it is 305,300 lb (138,480 kg). The record was set by Eamonn Keane (Ireland) at World Gym, Marina del Rey, California, USA.

TOquA TICEAHKIE of Lawton reportedly lifted 225 pounds 58 times in 60 seconds during an event to support diabetes Awareness month, breaking the current Guinness world record for most cumulative weight lifted in one minute.

"This was a challenge but it was fun. It took an extreme amount of preparation and training to get to this point and I am grateful for the turnout of people that came out to support me," Toqua said.

"What can I say, when people are watching and cheering you on, like any lifter, I was pumped, excited, and I have to admit I was a little nervous because it's all on the line.
"I was hoping to get 60 reps but I am extremely pleased with my result of 58. Maybe next time I can break my own record, just got to train harder.

"I have always been the strongest football player on every team that I have ever played on throughout my football career, but at least now I can say I am the strongest player in the world and that I have a world record," said Toqua-Hanai Ticeahkie.

"I would like to thank the Comanche Nation and Chairman Wallace Coffey for all of their support and for sponsoring my record attempt," said Toqua.

Ticeahkie was named Strongest High School Football player in Los Angeles. He played college football in California, Texas and at Southern Nazarene in Bethany.
He has played semi-professional football, including the Oklahoma Rebels.

Related world records:
Heaviest airplane pulled by teeth: Zsolt Sinka breaks Guinness world record (VIDEO)

Fastest 10 km carrying 40 lb pack: Chad McLean sets world record

Most benches held between the teeth: Li Hongxiao sets world record

Most weight lifted by barbell upright: Robert Natoli sets world record

Most people lifted at once: Kevin Fast sets world record

Most Weights Lifted by Dumbbell Flyes: Eamonn Keane sets world record

Heaviest vehicle pulled by two people: Reverend Kevin Fast and son

Heaviest aircraft pulled by a team: Hong Kong (Video)