Heaviest vehicle pulled over 100 feet-world record set by Kevin Fast

NEW YORK, NY, USA -- Canadian Dr. Reverend Kevin Fast hauled a load of 126,292 (57,285 kg) lbs over 137 feet (42 meters)-setting the world record for the Heaviest vehicle pulled over 100 feet.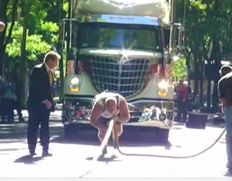 Photo: The record was set on "Live's Guinness World Record Breaker Week", an annual feature on the American talk show program Live with Regis and Kelly.

Between pants, the Cobourg, Ontario resident told Regis Philbin and Ripa that he was "a little worried" during the pull.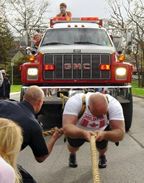 But the first thing he said after the attempt was "I feel great!" Paramedics were standing by, and quickly inspected him after the attempt.

Photo: The previous record for this category, also set by Fast, was 125,660 lbs (57,000 kg).

(enlarge photo)

Fast's only food in preparation for the event was a cup of coffee. He pulled on a rope, anchored by a parked car.
A special thanks to INTERNATIONAL LONESTAR for providing the truck!


Video: Heaviest vehicle pulled over 100 feet Video

Related:
Heaviest Plane Pulled by wheelchair users-DBFA sets world record

Strongest Boy-world record set by Nicholas Ortiz

Strongest Girl-world record set by Jacqueline Wickens

Most powerful Human Magnet-world record set by Aurel Raileanu

Thursday, September 25, 2008