Tuesday, March 20, 2012

Oldest Female to Paraglide Tandem: Mary Ellen Hardison set world record (PICS)

OGDEN, UT, USA--Great-great grandmother Mary Ellen Hardison celebrated the big 1-0-1 by going paragliding over the skies of her hometown of Ogden, Utah - setting the new world record for the Oldest Female to Paraglide Tandem, according to World Record Academy: www.worldrecordacademy.com/.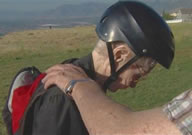 Photo: 101- year-old Mary Hardison of Ogden, Utah - the oldest female to paraglide tandem. Hardison decided to paraglide because her 75-year-old son was doing it as a hobby, and she says she couldn't let him do something she didn't at least try. All photos: AP Photos/KSL, Jeremy Castellano. (enlarge photo)

The previous Guinness world record for the oldest female person to paraglide tandem was set by Margaret Mackenzie McAlpine (United Kingdom) who was 100 years and one day old when she completed a tandem paraglide in Karaoglanoglu, Northern Cyprus.

Guinness World Records also recognized the world record for the for most continuous loops with a paraglide: 108, achieved by Raul Rodriguez (Spain) in Passy Plaine Joux, France.

Hardison, who set the record in front of a group of spectators that included her children, grandchildren, great grandchildren and even great-great grandchildren, admitted that part of the reason she took to the skies was out of competition with her 75-year-old son.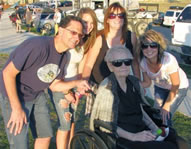 Photo: 101- year-old Mary Hardison of Ogden, Utah, front second from right, is photographed with her family. Photo: KSL/ AP (enlarge photo)

"I don't want my son to do anything I can't do, so I decided to go have fun like he did," Hardison told KSL-TV right after the record-breaking flight, which was done with the help of her instructor, Kevin Hintze.

"I feel very humble in setting a new Guinness World Record," she said.

"My desire is for the elderly to keep on going, do things as long as you are physically able. Be positive. Friends don't like a grumpy person."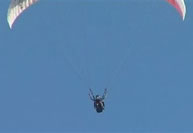 Photo: 101- year-old Mary Hardison of Ogden, Utah, glides to a gentle landing after flying hundreds of feet in the the air with an instructor. Photo: KSL-TV/AP Jeremy Castellano (enlarge photo)

Hardison also urges other senior citizens to stay moving and to continue to challenge themselves, even if it means they may break her current record.

"When a person is busy, the hurts seem to ease up," she said.
"If you are able and even older than I, then I'm happy for people to attempt to break my record. I promise the experience will be well worth it!"

Related world records:
Most skydives by an 80-year-old in one day: Pat Moorehead sets world record (Video)

Most parachute jumps: Don Kellnerm (Video)

Oldest tandem skydiving jumper: Fred Mack (Video)

Highest base jump: Nasr Al Niyadi and Omar Al Hegelan

Largest women's head-down freefly formation: 41 female skydivers set world record

Most tamdem loops in one jump: Pal Takats and Gabor Kezi

Most vertical metres skied: Oliver Kern

Highest Skydive Landing: Jai Kishan, Wendy Smith and Tom Noonan

Highest parachute landing: world record set near Mount Everest

Oldest wing walker: Tom Lackey

Skydiving after heart surgery: Laura Rites

Largest all-female skydiving formation: 181 skydivers

Largest Diamond formation: 100 skydivers

Largest Freefalling Sky Dive Cross In The World
Biggest skydiving formation: US skydivers

Skydiving after heart surgery: Laura Rites

Most bungee jumps in 24 hours: Mike Heard

Tuesday, March 20, 2012 9:51 AM