Longest rollercoaster marathon: Richard Rodriguez sets world record
[Aug 6]Blackpool Pleasure Beach, UK--Richard Rodriguez has smashed the World Record for the longest rollercoaster marathon.
Richard Rodriguez overtook the previous total of nine days and 12 hours at 12.01am on Monday.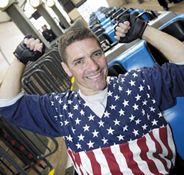 The 48-year-old broke the record on the Pepsi Max Big One at Blackpool Pleasure Beach.

Mr Rodriguez had held the record for nearly 30 years until German Frank Rossler beat it last year.

Not content with this feat, the American is still riding the rollercoaster to maximise his total. He said: "It feels amazing to be the world record holder once again, but I'm not just going to give up now - I want to stay on for as long as possible and make my record a solid one.

"The ride crews and all the visitors who have come to support me have been a great help and have inspired me to stay positive during this successful record attempt so I'd like to thank them all."

Mr Rodriguez has to eat, drink and sleep on rollercoasters as he takes on the ultimate endurance test.

Rossler, known as The Benjinator and his sidekick Stefan Seemann, were going head-to-head with Rodriguez at the same time in Germany, but were forced to pull out after just a day and a half with reports of dehydration.

In accordance with stringent Book of Records guidelines, the American will accumulate five minutes respite for every full hour ridden to allow him to change clothes, shower, have a hot meal and transfer onto the Big Dipper for night-time riding.

Now the American aims to stay on the ride until Friday at least, at which point he will have spent two weeks on the coaster.
Will be updated with final results