Longest non-motored fly-world record set by Wang Huihai
[Sep 19] TaiHang Great Canyon, China-- 39-year-old bicyclist Wang Huihai crossed the Hongqi Canal on his bicycle and flew 39.30 meters.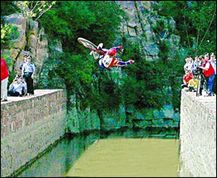 His 39.30 meter record has broken the Guinness World Record of 36.1 meters, formerly established by Wang Huihai himself. This is the longest distance anyone has flown with non-motored vehicle to date in the world.

According to Liu Tianliang, Wang's coach, the height of his flight was 16 meters, with the length at 39.30 meters. The trip took 9.3 seconds in all, with 3.12 seconds completely airborne.

Hongqi Canal is located in the TaiHang Great Canyon, Rencun Town, Linzhou City, Henan Province. At 9:00 AM yesterday, coordinators set up an 81-meter-long man-made course on the southern side of the Hongqi Canal. The highest point of the course was 32 meters high, with the lowest at 8 meters.

On the northern side of the canal a landing area piled with wheat straw was constructed. Several soft foam pads were put in the center of the straw.

At 11:54 AM exactly Wang began his adventure from the highest point, became airborne and flew to the lowest point. Due to wind resistance, Wang scratched three fingers when he let go of his 28,000-yuan bicycle.