Longest female skydive Jump: world record set by Valerica Popescu

[Dec 14]BUCHAREST,Romania--Romanian skydiver , sport master, Valerica POPESCU, from Romanian AirClub has established the new world record for The Longest skydive Jump (female), jumping in second Millenium and landing in third Millenium.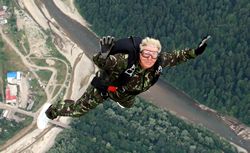 In the night between 31.12.2000 and 01.012001, jumping from 1000 m on the second Millenium and landing in third Millenium, the skydiver marked the Millenium change in free fall.

There were two drops, using Para-Foil parachutes, made from an Antonov AN - 2 , piloted by Ovidiu CORNEANU and Octavian IOSIF, both flight inspectors at AACR.

One drop was made at 00:00 GMT and the second one at 00:00 Romanian time, landing took place in front of Expo Centre in The Free Press Square in BucharestThe skydive was made between exploding fireworks in the sky.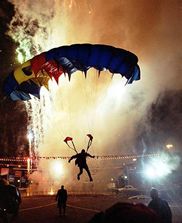 This particular skydive was a very difficult jump to be made because of several factors : night time, low temperatures and an unusual trajectory between exploding fireworks. There was several tones of fireworks that were fired from the ground and exploded high in the sky.

The glide was made through a thick cloud of gases from the fireworks, landing was in a small place, between the people on one side and the fire courtine made by the shooting fireworks.

The event was heavely mediated at that time and was homologated and awarded by The Romanian Aeronautical Federation.

[ Submit a world record ] [ World Record Certificate]
[ Book of World Records ] [ World Records Store ] [ Club ]



Fastest Jump Shooter in Billiards-Rocky Lane


Largest miniature railroad-Miniatur Wunderland


Fastest race around the 'World'-Rohan Veal