Longest basketball game-world record set by Sibiu players

[Aug 30] SIBIU, Romania--A group of 24 enthusiastic young people from Sibiu, Romania, managed to beat the new world record for the longest basketball game, playing for full 80 hours, from August 2nd, 11am to August 5th, 19pm.The final score was 5040-5003 for the Red Team.


The record attempt was organized by the Association "The 6th player", with most members being fans of the local basketball team "CSU Sibiu", their main goal being promoting basketball in Romania.
Photo by Ovidiu Matiu (click here to enlarge photo)

This new world record is now included in our (online) World Records Encyclopedia, the World's largest colection of world records and will be also printed in our Book of World Records-2008 edition.

The previous old record has been set just two weeks before that, when a group of kids from Crawley, UK, played for 72 hours.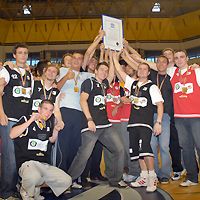 Sibiu Basketball game World Record Teams
The Red Team:
Horia Octavian Opris (1); Dan Oancea (2); Tudor Daniel Coroian (3); Nicu Scorvelciu (4); Ovidiu Valentin Olteanu (5); Marius Mutu(6); Bogdan Brylynski (7); Sorin Bajan (8); Rares Bleahu (9); Marius Falamas (10); Mihai Iacob (11); Andrei Telespan (12).

The Black Team:
Radu Emil Musoaie(1), Bogdan Badila (2), Sabin Sopa Ioan (3), Bogdan Bungarzan (4), Stefan Aristide Hila (5), Alexandru David(6), Calin Gavozdea (7), Tudor Marica (8), Razvan Luca(9), Paul Vacaru (10), Cosmin Damian (11), Dan Marginean (12).

"Everyone involved in the attempt (almost 100 people, including players, referees, stewards, witnesses, doctors) dedicated the attempt to Elemer Tordai, a 35-year old basketball player who passed away in July this year."
"He was one of the best players in the history of CSU Sibiu, being an idol for the younger, but also for the older fans"- Claudiu Hila, President of "The 6th Player" Association.