Thursday, June 30, 2011

Longest Roller Skating Marathon: Indian skaters set world record (Video)

BELGAUM, India -- 78 skaters from all over the country made history by skating continously for 30 hours, covering 720 km at Shivaganga Roller Skating Club (SRSC) - setting the new world record for the Longest Roller Speed Skating Marathon.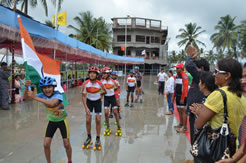 Photo: Skaters celebrating after setting the new world record at SRSC in Belgaum. All Photos by: Vilas Kumar (enlarge photo)

The Guinness world record for the Longest skateboard stationary manual was 49.09 second, performed by Rob Dyrdek.

Guinness World Records also recognized the longest skateboard, which measured 11.14 m (36 ft 7 in) long, 2.63 m (8 ft 8 in) wide and 1.10 m (3 ft 7.5 in) high; it was designed and produced by Rob Dyrdek and Joe Ciaglia (both USA) in Los Angeles, California.

The skaters both from Belgaum and across the country accomplished the task in the presence of International referees Mayne Chow (Hong Kong) and Brazil's Pablow and Marcello representing the Federation of International Roller Sports.

The non-stop marathon took off amid monsoon showers; over 70 skaters finished 30 hours speed skating marathon, breaking the existing record of 24 hours, 14 minutes and 3 seconds, established by Singapore Roller Sports .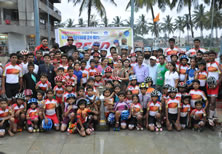 Photo: The 78 skaters with their coaches and officials of the Shivaganga Roller Skating Club after setting the new world record by skating non-stop for 31 hours covering 720 kmat the club's rink in Belgaum. (enlarge photo)

Indian In-line Hockey team chief coach A D Sharma, who is also a senoir official from Department of Sports, governement of Haryana, declared the skaters have broken the world record, even as crakers were bust to mark the feat.

List of participants, click here

President of the host club Jyoti Chindak and Secretary Ramesh Chindak congratulated all the skaters and the team coach Sunil Dhage from Pune for providing special training to the skaters and thanked all those who directly and indirectly supported the club to achieve the new world record.

To order your world record certificate, click here.

List of record breakers:
Nikhil Ramesh Chindak;
Aniket Ramesh Chindak;
Amit Sharma;
Sarvesh Anant Amte;
Vishal Sharma;
Ajinkya Sandip Poride;
Anuj Sud;
Shubham Aggarwal;
Darsh Khandewal;
Raghav Khandewal;
Saksham Jhalani;
Shefali Jhalani;
Divija Raj Babutta;
Hannah Raj Babutta;
Aryan Parakh;
Anish Deepak Lohana;
Ajinkya Prakash Ghare;
Amit Praveen;
Laxmikant N Pawar;
Omkar Dinanath Hogade;
Suyash Balaco Vadke;
Ajit B. Shiledar;
Satoskar Aditya Dayanad;
Sutar Omkar Chanderkant;
Sutar Pratil Anil;
Patil Arya Arun;
Gurnazar Singh;
Kushagar Chabbra;
Bharat Soni;
Bhavaya Taneja;
Kapil Gehlot;
Bhagwat Singh;
Madhur Verma;
Devyani Verma;
Drupad Khajwani;
Ishwar Sankla;
Mansi Tak;
Kapil Panwar;
Manish Dahiya;
Tanmay Rathi;
Anshul Sood;
Vikas Sourav Paras;
Karan Saini;
Manish Singh;
Vijay Malji;
Sachin Singh;
Rajesh Singh;
Rekhansh Rampal Sharma;
Omkar Patil;
Vinay Vikram Raipuriya;
Rajveer Singh;
Sanika Godse;
Himanshu;
Abhishek Sunil Bhosale;
Zubil Aslam Desai;
Aneesh Sood;
Mayur Sunil Halgekar;
Akhil Ravindran Pillai;
Yogesh Dilip Kumar Soman;
Utkal Pradeep Prabhu;
Prasswa Chandrashekhar Paatil;
Aishwarya Chougle;
Channveer S. Kalyan;
Akshya Sunil
Kolapkar Khushi
Suresh Anagadi;
Yash Shrikant Mahagaonkar;
Kalyan Kiran Patil;
Kavalya Kiran Patil;
Varunda Nitin Tarale;
Samrudhi Gundkal;
Aditya Pareekh;
Arjun Choudhary;
Prajakta Pawar;
Parth Shrikant Jagtap;
Nitin Tanwar;
Pablo Navaro;
Marcello Campos;
Ayushi Agarwal.

Related world records:
Longest Backwards Limbo Skating: Kaitlyn Conner

Longest Backwards Limbo Skating Under Vehicles: Abhishek Navale

Longest blindfold limbo skating: Rohan Kokane

Longest Limbo Skating: Aniket Chindak

Backwards Limbo Skating: Zoey Beda

Longest Limbo Skating: Aniket Chindak

Longest skateboard 24h ride: James Peters

Thursday, June 30, 2011