Saturday, September 26, 2009

Highest parachute landing-world record set near Mount Everest

KATHMANDU, Nepal --Three skydivers: two Britons, Leo Dickinson and Ralph Mitchell, and one Indian Air Force officer, Ramesh Tripathi jumped from an airplane at 20,000 ft (6,154 meters) and landed by parachute at Gorak Shep, a frozen lake bed, 16,940ft. (5,165 meters) above sea level, near Mount Everest-setting the world for the highest parachute jump landing.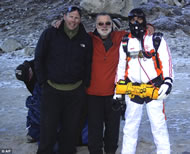 Photo: Mr Dickinson, flanked by fellow Briton Ralph Mitchell (left) and Indian army officer Ramesh Tripathi, stand at the 16,800ft-high plateau after they all skydived on to it from a helicopter flying 4,000ft above / AP photo
(enlarge photo)

"They landed at the highest zone at Gorakshep," Tourism Ministry official Dipendra Poudel said. "This will open a new adventure tourism event in Nepal and more skydivers are coming to Nepal."

Dickinson told reporters in the Nepal's capital, Katmandu, that after he jumped, he got a glimpse of Mount Everest before opening his parachute and saw "a panorama of fantastic mountains" and it was just amazing. You have got the mountains rushing past you. I just didn't want it to end. I had a freefall for four seconds and in the next three minutes I was already landing," Dickinson said.

The divers were in free fall for about 5 seconds before opening their parachutes and gliding down to the landing zone. All three are experienced skydivers. Mr. Dickinson and Mr. Mitchell have done over 4,000 jumps so far, while Mr. Tripathi has done over 3,000 jumps.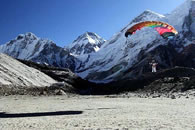 Photo: A skydiver prepares to land at Gorakshep at a height of 5164 metres after a parachute jump over Mount Everest. Photo: AFP
(enlarge photo)

"It was the fulfilment of a dream," said Tripathi, who in 2005 had led the IAF team that ascended Mt Everest. "Now if I die tomorrow, I will die a happy man."

It was a remarkable feat for Tripathi especially as he had suffered a brain haemorrhage six months ago and his doctors opposed his skydive plan from a height where the dearth of oxygen could cause death. Unlike his peers, who spent about five days in Gorak Shep acclimatising, Tripathi did not have that luxury since he did not have leave.

Surendra Sapkota, chief of Nepal's mountaineering department said officials from his department, police and the home ministry escorted the skydivers to the area and witnessed the jump.

The previous world record for the highest parachute landing was made last year when skydivers jumped to a drop zone in the same region at 12,350ft.

Gorakshep is a small patch of flat land at 16,940 feet near Mount Everest.

Bikrum Pandey, chief of Nepali hiking agency Himalaya Expeditions that provided logistics to the skydivers said it was a "test jump" to see if Gorakshep could become a safe landing site for regular skydiving.

This is the first year that the Nepal tourism has opened the Everest zone to skydiving. The landlocked mountain nation plans to celebrate Visit Nepal Year in 2011 to attract more tourists.
Tourism is one of the Nepal's biggest foreign currency earners with tens of thousands of tourists coming to trek in the Himalayas every year.

More than 3,600 climbers -- including a 16-year-old boy, a 76-year-old man, a man with an artificial limb and a blind person -- have since scaled the world's highest mountain.

In May this year, the Indian Army's Colonel Niraj Rana set another record by landing above Camp II of Mount Makalu, situated at 7,000 metres, on a paraglider. This was the highest place a paraglider has ever landed.

Related world records:
Deepest paramotoring (PPG) flight -Adi Buzan and Ionut Rites sets world record

Longest wheelie in a wheelchair-world record set by Michael Miller

Most turns around the horizontal bar-world record set by Davit Fahradyan

Longest Backwards Limbo Skating Under Vehicles-Abhishek Navale sets world record

Most golf holes played in a week-world record set by Tom Bucci

Youngest coach of an Olympic women's marathon winner-world record set by Valeriu Tomescu

Oldest Olympic women's marathon winner-world record set by Constantina Dita

Longest blindfold limbo skating-world record set by Rohan Kokane

Smallest bodybuilder-world record set by Aditya 'Romeo' Dev

Most Full Contact Martial Arts Punches In 1 Minute-Kevin Austen sets world record

Most tandem skydives in 24 hours-world record set by Chip Bowlin and Kristin Gould


Saturday, September 26, 2009