Fastest mountain biker-world record set by Markus Stoeckl
[Sep 22] SANTA MONICA, CA,US-- Markus Stoeckl, 33, set a new world speed record in the series downhill mountain bike class this past week on a renovated high-speed snow track at the La Parva ski resort, located in the Central Andes of Chile.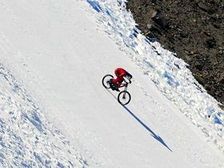 The Austrian shattered an eight-year-old record by an incredible 14 mph (23 km/h) when he hit a speed of 130.7 mph (210.4 km/h).

Photo credit:
Alfredo Escobar

On Friday, at 11:18 a.m., Stoeckl was standing at the highest possible starting point, directly beneath the cliffs above and in front of a 6,500 foot, 45 degree slope. The conditions for the record run were far from ideal.

Because South America's springtime weather had melted away much of the snow alongside the slope, shrinking it to a narrow strip between bare mountain cliffs, it wasn't possible to gradually raise the starting point for the test runs.

The final test run took place from a spot that was a few hundred feet below the starting point where a top speed of 110 mph was previously recorded.

In addition, the protective visor on Stoeckl's helmet kept fogging over, so he was forced to hold his breath for the entire 40-second run. "I knew that this would be my only chance," he said. The record run went off without a hitch. There were no problems whatsoever, and, despite hitting a speed of 130.7 mph, Stoeckl made it look effortless.

"At the end of the run, I had the feeling that I was somehow watching the run myself," said Stoeckl. "The planning for the trip to Chile was so hurried that I ended up having to wear my street shoes for the world record run."

Now that Stoeckl has tasted success in the series class, he wants to try to break the other age-old prototype class record set by Eric Baronč -- but with better preparation and first-rate equipment.

Fernando Habash of the La Parva ski resort has promised he will have a course suitable for another world record for Stoeckl when he's ready once again.