Fastest female kiteboarder-world record set by Sjoukje Bredenkamp
[Oct 16]Luederitz, Namibia--SJOUKJE Bredenkamp,19, from Langebaan, South Africa has broken the outright women's speed sailing record in Luederitz. She is now officially the fastest woman in the world on water!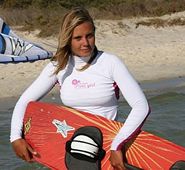 SJOUKJE Bredenkamp managed to break the outright women's record for all sailing craft, with a smashing 42.35 knots, beating the previous record held by Windsurfer, Karen Yaggi of Switzerland.

(enlarge photo)

Sjoukje was riding a 5-metre Helix kite, a new model in the Naish Sigma range, a revolutionary new shape in the kite-boarding world, and a specially designed speed board from Cape Doctor kite-boards in Table View!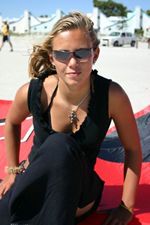 Sjoukje's Father, Hennie Bredenkamp was also competing at the record attempt and managed to improve his previous African record of 42.99 knots, set on a windsurfer, to an amazing 44.63 knots, now on a kite.

(enlarge photo)

Alexandre Caizergues managed to bring the male kite-boarding record into second place on the Outright ranking with an amazing speed of 47.92 knots, the second fastest sailing speed ever just behind current outright world record holder Finian Maynard from the Virgin Isles.
Link: SJOUKJE Bredenkamp's website


Fastest single-turbine engine plane