Fastest M90 runner-world record set by Orville Rogers

[April 2]BOSTON, USA--Orville Rogers of Dallas, 90, set a record of 4:19:97 in Sunday's M90 800 meter race during the 2008 USA Master Indoor Track and Field Championship in Boston.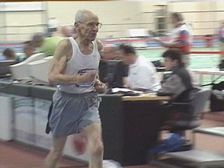 He torched the previous record for his age group by more than 40 seconds.

Orville also set a record in the mile with a time of 9:56:58. He is the father of Lindale's Dr. Rick Rogers.

KLTV 7 Sports spoke to Orville by phone from Dallas Tuesday evening.

"Well, I can't believe it to begin with," he laughed. "I had no idea I'd be competitive nationally and especially internationally until about six months ago when I started checking on the times. Actually, I entered six events hoping to pick out the ones I thought I could best fit in and those were the two. I would have liked to run one more."

Orville's advice is that you are never too old to try something new. He says he began running when he was 50.