NEW world record
Most T-Shirts Worn at One Time - Kruno Budiselic sets world record
Most T-shirts worn at once- world record set by Austin Crow
[June 14] EASTHAMPTON, MA,US--With 117 T-shirts covering his 111-pound frame, 12-year-old Austin D. Crow set a new world record for most T-shirts worn at once.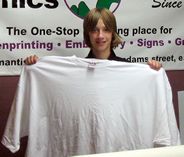 Donning 168 T-shirts and breaking the record, which took 2½ hours and gave the boy, who is finishing sixth-grade at White Brook Middle School, the look of a sumo wrestler, was accomplished at Mantis Graphics at 1 Adams St. which was hosting a Greater Easthampton Chamber of Commerce Networking at Night event.

(click here to enlarge photo)

The goal was to raise money for the dredging of Nashawannuck Pond.

Getting on 168 T-shirts is not a simple effort, but the young man who once swam with sharks in the Caribbean faced it bravely and with humor as his father, Clay C. Crow, and mom, LaDonna E. Crow, with the help of Mantis co-owner Bradley J. Robbins, put on the ever increasingly large T-shirts which topped out at 7X and weighed more than 80 pounds.
Once he had more than 100 T-shirts on, Austin could no longer walk by himself and his mother had to feed him sips of ginger ale. At 150 T-shirts, he couldn't make it through a door frame he was so wide.

A fan was brought in to keep the boy cool. The T-shirts bigger than 5X had to be special ordered from a company in California by Mantis Graphics, which produces 35,000 T-shirts a year for customers. "So many people staring at me," Austin said with 140 T-shirts on, his dad greeting observers at his side.

Getting out of the T-shirts was a somewhat less demanding task. Austin's parents and Robbins used scissors to cut through the mountain of shirts.

Reuters Video: