Most kisses in the skies-world record set by SkyEurope

[Feb 18]BRATISLAVA, Slovakia--More than 2200 kisses on board of SkyEurope Airlines created a world record for most kisses in the skies on St. Valentine's Day, 14th February 2008.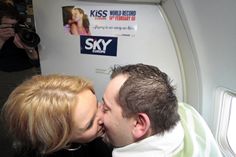 All 14 aircraft on 84 flights with 31 crews in total has been involved in this unique project called KISS EUROPE.
(enlarge photo)

SkyEurope celebrated 6th anniversary of its first flight by bringing love in the air and creating world record in number of kisses in the skies.

SkyEurope counted in total 2214 kisses on board of its flights on 14th February. All passengers traveling on board of SkyEurope flights on St. Valentine's were asked by crews to help create the world record and kiss.

Each kiss was then counted and added to the whole amount of kisses on board of the whole fleet on all the flights of SkyEurope that day.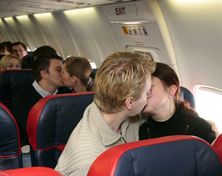 All kissing passengers were awarded by world record champion certificate and a voucher for a free ticket valid for upcoming two months time.

(enlarge photo)

Moreover each passenger flying on board of any St. Valentine's SkyEurope flight received little chocolate heart.

"SkyEurope is celebrating 6th anniversary of its first flight by bringing love in the air together with another great experience for our passengers. With our KISS EUROPE project we are sending out clear message that we love to carry our passengers and after today's world record we can definitely say our passengers love to fly with SkyEurope," says Steven Greenway, Chief Commercial Officer of SkyEurope.

Most kisses were counted on the flights to UK, France, Netherlands and Italy. Kissing on board was popular also on domestic and short sector routes such as Vienna – Innsbruck, Bratislava – Košice and Bratislava – Prague since the very first flight departure at 6:20 in the morning.

"KISS EUROPE was very warmly accepted by passengers. People of all ages had a lot of fun on board. Not only couples in love were kissing, we also had parents kissing their children and many friendly kisses have been exchanged for free tickets all over European airspace today. SkyEurope made flying simply as easy as a kiss," says Tomáš Kika, SkyEurope's Head Of Communications.

No other airline has ever attempted to create a world record in kissing in European airspace before.