Saturday, July 31, 2010

Most Ganesha Idols Hand Made in 24 Hours - Rama Shah sets world record
MUMBAI, India -- Rama Shah, 48, a staunch devotee of Lord Ganesha, made 999 idols in 24 hours at the SIES College of Arts - setting the new world record for the Most Ganesha Idols Hand Made Non Stop in 24 Hours.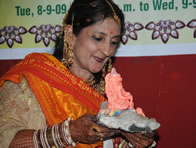 Photo: Rama Shah displaying the first idol made blind-folded. (She has made the idol structure blind folded. The painting of eyes and the decoration is done with open eyes.) (enlarge photo)

The formal inauguration of lighting the traditional lamp was done at the hands of Shri Jayaram Mani, Vice President, South Indian Education Society at 8.45am. Shri Shashikant G. Vora, President of PSA and Shri M.R. Bhatia, Vice Principal were also present.

Ms. Shah was blind folded and she made the first idol of Lord Ganesha to the utter surprise of students, staff and the public and everyone gathered clapped their hands in delight.

Shah continued doing the idols nonstop in different shapes and sizes without using any mould, through the day and the night.

She did not lose her moods or her patience when at night the power went off. Rama continued her work with full dedication and determination in candle light.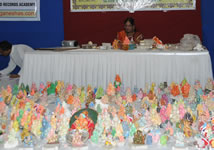 Photo: Rama Shah continues making the idols. In front, her previously made idols are displayed. The 999 idols which are being made by her are displayed separately on her right.
(enlarge photo)

In all she made 999 idols of the Lord in 24 hours, out of which 9 idols were made blind folded. It is a great achievement and a wonderful record.

There was the display gallery also where 99,999 idols previously made, were displayed and the display was extended by a day on public demand. The display included Ganesha in different poses: standing, sitting, sleeping.

Photo Gallery: Rama making Lord Ganesha Idols

Link: Rama's website

Considering herself completely consumed in the art, Shah's devotion began after the Lord appeared in dreams in 2000.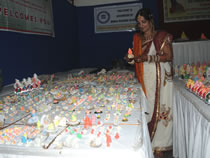 Photo: Rama Shah with the 999 ganesha idols made by her in 24 hours non stop. (enlarge photo)

Rama's endeavour began after she felt that ''she should do something that no one has ever attempted before.''

The impetus came from a dream. ''One night I dreamt of Lord Ganesha. After the dream, I decided that I will try my hand at making Ganesh idols,'' says Rama. One idol led to another and soon Rama found that making these idols was an activity she enjoyed immensely.

Subscribe to our RSS News feed to receive updates.
Related world records:
Most Ganesha Idols Made in 99 days-world record set by Rama Shah

Most people receiving a chair massage in 24 hours-Romano Sandee

Most Four Leaf Clovers Found in 15 Mins -John Stokes

Highest Cabinet Meeting - Nepal

Youngest Person Performing Carnatic Music on the Violin - Sandeep N Bharadwaj

Saturday, July 31, 2010