NEW WORLD FRECORD
Longest poker game - Phil Laak sets world record

Longest poker playing marathon-world record set by Dave Cain

LINCOLN, UK -- Dave Cain, 43, played poker for 74 hours and 12 minutes at the Library Bar in Lincolnshire, England from Sept. 14-17 -setting the world record for the Longest poker playing marathon.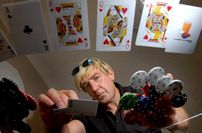 Photo: Instead of just playing in a full ring game, Cain decided that he was going to break the record while playing heads-up, deep-stacked poker. Photo by Anna Draper (enlarge photo)

This made the event that much more mentally taxing, and the accomplishment that much more impressive.

"I had some pretty bizarre hallucinations," said Cain. "Everybody who played on the table signed the table and all the signatures turned into spiders at one point, which is pretty freaky. It was one of those scary times. I absolutely wasn't right."

The biggest motivator for Cain and the attempt to set the nutty record seems to be the potential to give back to the game he's been so fortunate to be a part of.

Cain needed 1 steward, 1 practicing nurse/doctor and 2 official witnesses for every hour of the attempt, as well as dealers and IT support.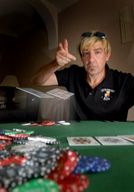 Dave Cain of Boultham, Lincoln, is currently a manager for the Live Pub Poker league, among the biggest leagues in the U.K., and said poker is a huge part of his life.

(enlarge photo)

The money raised from the event was going to go to two charities: St. Barnabas Lincolnshire Hospice and Louth & District Hospice.

As for what's next for Cain?
Well, he'll go back to working and playing poker, but he's got his eyes on a couple of other stunts. In fact, he hopes that he might be able to set up something with the former World Record holder Larry Olmsted (72 hours and two minutes of continuous play) to see who can play the longest heads-up.

"I would like to play heads-up to say who can go the longest. But I haven't heard back from him yet."

The previous world record for the Longest poker playing marathon was held by Larry Olmsted of the United States. Olmsted played poker for 72 hours and 2 minutes straight at Foxwoods in 2004, taking 15 minute breaks every eight hours so that he could change his clothes and brush his teeth.

On the web: Poker Playing Marathon

Official record title:
the "Longest time an individual has continuously played poker"
Date: Sept. 14-17
Place: Library Bar in Lincolnshire, England
Photos by Anna Draper

Monday, October 6, 2008