Longest non-stop Elvis impersonation-world record set by Suresh Joachim

[Feb 3]TORONTO, Canada--professional world record breaker Suresh Joachim successfully set a record of 55 hours for longest non-stop Elvis impersonation.Joachim's 55 hours of singing broke the previous world record for the longest Elvis impersonation – 43 hours and 11 minutes.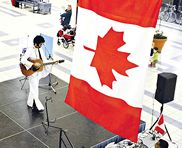 At 3:30 Saturday afternoon, after shaking and singing and wiggling his hips for three days, and undoubtedly two long nights, he still had the energy to finish off with an impressive finale, said his wife and biggest fan Christa Joachim.

(enlarge photo)

"My voice is gone," Joachim rasped in a phone interview. "Learning songs is hard. I had to memorize them, follow the beat – and I had to dance!"

"Towards the end he was performing really well," said Christa, who took three days off work to cheer him on during mall hours. "He even kept dancing for the last full hour," she said, adding that a sizable crowd had gathered to see him reach the record.

He was not allowed to remove any piece of his costume throughout the 55-hour performance. "It was disgusting wearing the wig all the time. I was sweaty," he admitted.


"I listened to Elvis for 14 days non-stop. When I went to the car, when I walked around, I sang with him. He admitted to a touch of stage fright at the start. "I was struggling for words, but by the end, I looked like the real Elvis. Everyone was cheering and I danced so well."

It was a different story when he began the attempt, dressed in a white suit with gold trim, a wig, and large sunglasses. Considerate of the early 8 a.m start time, he warmed up the crowd and began the challenge with one of Elvis's softer ballads, the "Heartbreak Hotel.

Some of the early morning shoppers looked at him blankly, others simply ignored him. But Suresh Joachim-- aka Elvis -- kept shakin'. Even mall security guards and record observers had the pleasure of being serenaded through the night, "He was being watched, so he couldn't sleep or cheat," said Christa.

The Man Who Was Elvis is understandably ecstatic about his record. "I love it. I love it," he said. "It's good for my two sons. They'll achieve different things than I have, but they'll learn from me."

The professional record breaker's past accomplishments include running up and down an escalator for seven days and standing for 76 hours and 40 minutes on his left foot. "Getting married with 79 bridesmaids and 47 groomsmen was the easiest to break," he said.

Suresh Joachim sang a total of 41 songs over and over again during the record-breaking attempt - the only Elvis songs that he had learnt in preparation for the event. "He didn't even know any Elvis songs when he decided to do this," said Christa. "So he had to practice these ones lot," she said, her newfound disdain for Elvis songs clearly evident.

And how was the record holder celebrating his new title? By sleeping. "He's exhausted," she said. "He crashed as soon as he came home."

This is the 53rd record Suresh Joachim has broken since he began challenging world records in 1996. Other titles he holds include crawling non-stop for 56 kilometres, and standing on one foot for 76 hours. His first record was 1000 consecutive hours of running.

He drummed continuously for 84 hours in Switzerland; ran on a treadmill for 168 hours to cover 659.27km in France; bowled for 100hrs in Canada; carried a 4.5 kg brick in a nominated ungloved hand in an un cradled downward position for 126.675km in Australia. Suresh has been traveling around the world performing much different type of world records.

...But this is not the end, he's already started planning the next one:playing the guitar for 55 hours and hopes to break more than 300 in the next 10 years.

Links: www.sureshjoachim.org, www.sureshjoachim.net


Related world records:
Longest Elvis Presley Song-Playing Marathon-world record set by DeeJay CJ

Most successful solo artist-world record set by Elvis Presley
[ Submit a world record ] [ World Record Certificate]
[ Book of World Records ] [ World Records Store ] [ Club ]



Fastest Jump Shooter in Billiards-Rocky Lane


Largest miniature railroad-Miniatur Wunderland


Fastest race around the 'World'-Rohan Veal