Longest game of Chinese Whispers-world record set by British kids

LONDON, UK --1,330 children, aged seven to 11, and celebrities from the world of sport and entertainment have set a new world record for the longest game of Chinese whispers.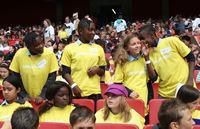 Photo: Staged at Arsenal Football Club's Emirates Stadium, the record breaking children have already raised more than £100,000 for Save the Children and TreeHouse, the national charity for autism education.(enlarge photo)

The attempt which lasted for 2 hours and 4 minutes beat the existing record held by the Cycling Club of Chengdu, China, involving 1083 people in 2006.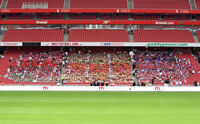 Organised by BI, the UK's leading communication and motivation company, in partnership with Arsenal FC, TreeHouse and Save the Children, the event saw children aged 7-11 from the Milton Keynes area, join forces with children from north London who participate in Arsenal in the Community initiatives and children's groups associated with both charities. (enlarge photo)

Also supporting the event were Nick Hornby, Ainsley Harriott, Dermot O'Leary and Austin Healy joined forces with Spandau Ballet singer Tony Hadley, impressionist Jon Culshaw, former England and Crystal Palace star John Salako, actress Michelle Collins and Holby City stars Amanda Mealing and Duncan Pow to cheer the children on and see them smash the record.

And Sir Steve Redgrave comments: "This is a fantastic achievement by all the children involved. It has been an honour to support these record breakers in their efforts to raise money for both TreeHouse and Save the Children. Both charities undertake vital work and The Chinese Whispers event has been all about helping children help each other."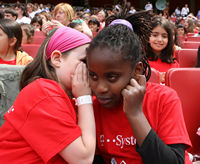 CHINESE whisper is a game in which each participant secretly whispers to the participant next to him a phrase or sentence whispered to them by the preceding participant.
(enlarge photo)

Cumulative errors from mishearing often result in the sentence heard by the last player differing greatly and amusingly from the one uttered by the first. It is usually played by children as a party game or in the playground.

The message was communicated in a variety of ways. Most of the children whispered the message but those unable to use speech as their main form of communication, used a language programme called Makaton. This is a language involving signs and symbols designed for those with a variety of communication and learning difficulties.

After the message had passed 200 children it had changed to 'We're breaking a record' and after 500 children it was recorded as 'Everyone is evil'.

By the time the message reached the last child, it had changed dramatically and was read out as simply; 'Haaaaa'.

This is a practical example of how even the simplest of messages can get corrupt. As an expert commented, "It is very human to delete, construct, distort or generalise the original message based on the receiver's personality."

Hence, when important messages are to be passed on, the general procedure is for the listener to repeat the message to the originator – this reduces chances of any error creeping in.

Money raised through the event will be used to further TreeHouse's plans to open a National Centre for Autism Education in north London and will raise money for Save the Children's biggest-ever global campaign to stop 10 million children dying each year before their fifth birthday.

The previous world record was held by the Cycling Club of Chengdu, China, involving 1083 people in 2006. In the last 2 years, there have been seven unsuccessful attempts to smash the record.

Monday, July 14, 2008