Wednesday, September 21, 2011

Longest Earring: Jewelry designer Adrian Haiduc sets world record (Video)

NADLAC, Romania -- Romanian jewelry designer and Arizona, US, resident, Adrian Ionel Haiduc, owner of the H'Art Design Ltd, spent eight months of work, using crystals, pearls, gemstones and beads, all strung on silk, to create a 1550.72 feet (472.66 meters) long earring which sets the world record for the Longest Earring, according to World Record Academy (www.worldrecordacademy.com).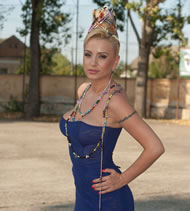 Photo: Model Simona Trasca wearing the World's Longest Earring. All Photos: Mihai Toth (enlarge photo)

The Guinness world record for the most models modelling on a catwalk is 282 and was achieved by Have a Good Dream Co., Ltd and Thai Beverage Marketing Co., Ltd (both Thailand).

Guinness World Records also recognized the world record for the longest catwalk marathon lasted for 10 hours as part of the More magazine fashion awards 2005 (UK) at the Commonwealth Club, London.

"The Longest Earring in The World is made of crystals, pearls, gemstones and beads, all strung on silk, " said jewerly designer Adrian Haiduc.

"Besides its lenghts, the jewel proved to be usable. Being made of three strings, the earring could be this way adapted in such a way that the model who wore it successfully walked under its weight, without encoutering problems."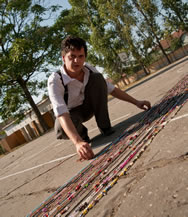 Photo:
(enlarge photo)

"One of the strings was knitted in hair, a second one had the role of a fancy necklaces, and the third was left to hang, like a respectable earring."

The official measurement of the total length of the lucky charm was made by engineer Ioja Mihai from the office of BRML in Timisoara, Romania.

Jewerly desgner Adrian Haiduc also own the world record for the Highest launch of a jewelery collection and the world record for the Longest Lucky Charm.

This world record attempt was performed with the support of:
Ms. Simona Trasca- model,
Mrs Laura Elena Lita ( www.emulte.ro),
Mrs. Antonela Rain – make-up artist,
Ms. Camelia Leontina Talos – hair stylist, Mr. Ioan Bodici – hair stylist,
Ms Madalina Ciodaru – P.R ,
Mr. Flaviu Roua- body painting and
Mr. Alin Farcut (Art Club 700).

The world record was sponsored by:
Nadlac City Hall;
Nicoleta Petrescu, owner of the www.margelesibijuterii.ro;
Dana Diaconescu designer, owner of the Damacom (http://www.damacom.ro/) H'art Design LTD (www.hartdesign.ro)
Art Club 700 La Femme – espace beaute.

Related world records:
First Million Dollar Fragrance Bottle: DKNY set world record (Video)

Longest tattoo session: Robin H.M. and Jeff Garton (Video)

First bacon-scented perfume: Fargginay Inc. (HD Video)

Most cosmetic procedures: Cindy Jackson (Video)

Longest Lucky Charm: Mirela Harris and Adrian Haiduc

Most Expensive Nail Polish: Gold Rush Couture by Models Own

Most Beautiful Woman: Miss USA Alexandria Mills

Fastest relay race in stiletto heels: Australian women

Longest Catwalk: The Copenhagen Fashion Week

Most Expensive Diamond Tattoo: jeweler Yair Shimansky

Most lipstick applications: Estée Lauder

Most Tattooed Woman: Julia Gnuse

Most T-Shirts Worn at One Time: Kruno Budiselic

Wearing most underpants at once: Gary Craig

Highest Launch of a Jewelry Collection: H'Art Design Ltd.

Smallest Tattoo of a painting: Wingnut

Most tattoos given in 24h: Robbie The Coon

Most tattoos done in 24 hours: Kat Von D

Wednesday, September 21, 2011