Wednesday, May 5, 2010

Largest Water Initiative - Dow Live Earth Run for Water sets world record

LOS ANGELES, CA, USA -- On April 18, musicians, athletes, dignitaries, environmentalists and tens of thousands of everyday citizens in 200 cities, across 81 countries, on six continents around the world, came out to take part in the Dow Live Earth Run for Water , setting the world record for the Largest Water Initiative.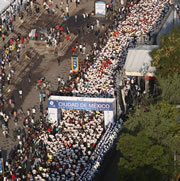 Photo: 7,000 people lined up in Mexico City waiting for the official start of the Dow Live Earth Run for Water. The 6km run/walks took place in 200 cities around the world on April 18, 2010, and was the World's Largest Water Initiative to help combat the global water crisis. PRNewsFoto/Live Earth (enlarge photo)

The World's Largest Water Initiative consisted of a series of 6km run/walks (symbolic of the average distance many women and children walk every day to secure water), many of which were combined with live concerts and water education activities to ignite a global movement for clean, safe, drinking water.

"It was incredible to be part of this global movement for such a great cause," said Pete Wentz, artist, activist and Live Earth supporter. "I hope this event inspires people to continue to do their part to help put an end to this worldwide crisis."

Events took place in some of the largest countries in the world, including the United States, China and Canada, as well as some of the smallest countries, such as Burkina Faso, Sierra Leone and St. Lucia.

The most well-attended events spanned the globe, including Buenos Aires (7,000 race participants), Mexico City (7,000), the United States (6,000), the Dominican Republic (4,000), Lima (4,000) and many more.

Each run/walk included unique elements to engage the local community with the issue of the global water crisis.

For example, in Jakarta, children raced around their school carrying four liters (approx. one gallon) of water to illustrate how the crisis affects other children in their part of the world; in Crede, Colo., community members and country musicians walked 6km along the Headwaters of the Rio Grande to illustrate the importance of conservation in our wetlands.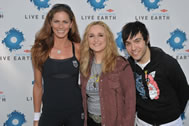 Photo: Two-time GRAMMY Award-winner Melissa Etheridge; artist, activist and Live Earth supporter Pete Wentz; and professional Triathlete Jenny Fletcher at the Dow Live Earth Run for Water in Los Angeles. PRNewsFoto/Live Earth (enlarge photo)

World-renowned artists joined forces to champion the cause, including Paris Bennett (Minneapolis); Hins Cheung (Hong Kong); Collective Soul with special guest Sam Moore (Chicago); Custom Kings (Melbourne); Electrico (Singapore); Estelle (Minneapolis); Melissa Etheridge (Los Angeles); Kany Garcia (Mexico City); Kevin Johansen + The Nada (Buenos Aires); Jorge Ben Jor (Rio de Janeiro); John Legend (New York); The Parlotones (Cape Town); Tim Rogers (Melbourne); The Roots (New York); Sandoval (Mexico City); Skipping Girl Vinegar (Melbourne); and Rob Thomas (Atlanta). Additional supporters included Alexandra Cousteau, Pete Wentz, Angelique Kidjo, Carl Lewis, Kara Goucher, Jenny Fletcher and The Prince of Orange.

The Dow Live Earth Run for Water enlisted the support of more than 30 NGOs worldwide to serve as partners in the mission to raise awareness and funds to help solve the global water crisis.

This includes event beneficiaries, such as Global Water Challenge, A Child's Right, Akvo, arche noVa, Espacio Aqua, Fondo Para La Paz, Indonesia Water Partnership, Instituto e, Lakarmissionen, International Riverfoundation, Lien Ad, Pump Aid, The Salvation Army and Wildlands Conservation Trust.

In addition to consumer participation in the events themselves, the Dow Live Earth Run for Water saw significant online participation through social media channels worldwide, including 10,000 MySpace members and many others downloaded event-specific applications and widgets; the run/walk encouraged more than 20,000 tweets, with 3,000 taking place on the day of the event, reaching an estimated audience of more than 15 million people; and more than 40 million impressions and interactions on Facebook, which drove global awareness with users in more than 40 countries.

People uploaded thousands of photos that were posted across Flickr, Facebook and Magnify, as well as more than 500 videos on YouTube, Facebook, Vimeo and other web video networks.

Subscribe to our RSS News feed to receive updates.

Related world records:
Most plastic bottles collected - Florida students sets world record

Most Volunteer Hours - world record set by Donn Moss

Wearing most underpants at once - world record set by Gary Craig

Longest Hug - Faisal Mohyud-Din and Mohammed Azeem sets world record

Wednesday, May 5, 2010