Monday, June 7, 2010
First concert for dogs - 'Music for Dogs' concert sets world record
SYDNEY, Australia -- Laurie Anderson and her band performed a 20 minute piece for a canine audience outside the Sydney Opera House , setting the world record for the First concert for dogs.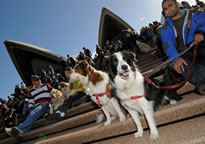 Photo: Hundreds of dogs and their owners have descended on the Sydney Opera House for the World's First Concert for Dogs ./ AFP photos (enlarge photo)

Almost 1,000 dog-lovers packed onto the Opera House steps and forecourt to treat their beloved pets to the free outdoor event, which is part of the Vivid LIVE arts festival.

The World's First Concert for Dogs - part of the Vivid Light Festival in the Australian capital - was masterminded by avant garde US artist Laurie Anderson, who is married to rock legend Lou Reed.

She specially wrote the 20-minute piece Music for Dogs and the pooches were dressed up by their owners for the occasion.

Almost every breed of pooch seemed to be represented on the steps in front of the iconic Opera House.

Most owners did not know what to expect, though some told Sky News that their dogs were big fans of classical music. What they heard was 20 minutes of odd notes, chords and weird high-pitched screeching that seemed to be appreciated by both humans and animals.

Afterwards she told Sky News: "That was the most amazing concert that I've ever gotten to give. "The dogs are a really wonderful audience. They're grooving and dancing and uninhibited."

A section of whale calls was particularly popular, with furry ears pricking up, and some joining in with howls of approval.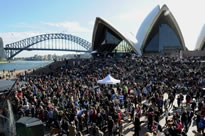 (enlarge photo)

Anderson said: "It was really fantastic. All the dogs were really grooving on the music. They really seemed to enjoy themselves."

Ms Anderson called it "an inter-species social gathering on a scale never seen before in Australia". Laurie Anderson is renowned for experimental music.

"The dogs were really wonderful audience members, they were grooving, a lot of them were singing and dancing, they were uninhibited," she said after the recital.
"And you know what? There were no dog fights. We were very relieved about that, everyone was very well behaved."

Subscribe to our RSS News feed to receive updates. Related world records:
Fastest Skateboarding Dog - Tillman the bulldog

Smallest living dog-world record set by Boo Boo

Smartest dog - world record set by Betsy

Tallest dog-world record set by Boomer

Oldest Dog-world record set by Max the terrier

Tallest cat-world record set by Scarlett's Magic

Monday, June 7, 2010