Thursday, March 15, 2012

First Cat to run for Senate: Hank the Cat sets world record (HD Video)

SPRINGFIELD, VA, USA--Hank the Cat, 9, (52 cat years), a native Virginian, will take on former Govs. George Allen (R) and Tim Kaine (D) for the state's one open Senate seat , setting the world record for the First Cat to run for Senate, according to World Record Academy: www.worldrecordacademy.com/.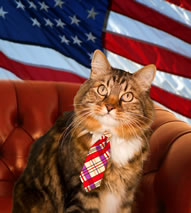 (enlarge photo)

The Guinness world record for the loudest purr by a domestic cat is 67.7 dB (LA peak) and was achieved by Smokey, owned by Lucinda Ruth Adams (UK) at Spring Hill farm, Pitsford, Northampton, UK.

Guinness World Records also recognized the world record for the most expensive cat, set by Californian Spangled Cat; she was bought for $24,000 (£15,925).

A Washington outsider, Hank has no previous political experience.

Born on the streets to a single mother, Hank, through his camp, said that it is his life experience that matters.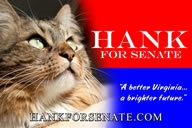 (enlarge photo)

Although only 9 in human years, Hank has 52 cat years of life experience. Enthusiastic and energetic enough to chase the bouncy ball, he has the wisdom to understand that it is almost impossible to catch.

His background, campaign manager Matthew O'Leary told TODAY.com, "definitely gives him a great insight into how difficult it is to live on the streets and to almost being put down. He realizes that the judicial system needs reworking and that there needs to be opportunities for everyone."

An independent, Hank is focused on creating jobs for Virginia and making sure that pets are spayed and neutered.

According to O'Leary, "Hank leans to the Republican side himself but he feels as an independent that he can offer people real solutions without all the rhetoric and all of the hateful speech."

Related world records:
Oldest living two-faced cat: Frank and Louie sets world record (HD Video)

Most ears on a cat: Luntya The Cat (Video)

Loudest Cat: Smokey The Cat (Video)

Longest Cat: Stewie

Longest recorded migration of any mammal: Humpback Whale

Tallest cat: Scarlett's Magic

Oldest cat: Mischief

Thursday, March 15, 2012 11:44 AM