Fastest female shearer-world record set by Emily Welch

[Nov 27]WELLINGTON,New Zealand--Emily Welch, 27, has broken the official women's world record for shearing the most lambs in nine hours: 541 sheep.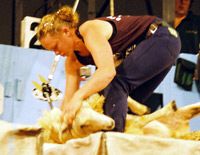 Expert judges made sure there were no short cuts in the shearing, and in a country where 40 million sheep outnumber the humans by 10-to-1, it was a major item on the TV evening news bulletins.
Emily Welch has been training for the high-endurance record attempt for six months. She has been shearing professionally for six years and is the only female shearer in her gang, but has a rising profile on the competition shearing circuit.

The record was previously held by another New Zealander, Jills Angus Burney, who set the mark in 1989 in Bennydale. She says participating in an attempt like this is as exhausting as running a marathon.

Twenty-seven year-old Emily was taught by her father Philip Woodward, a local shearing legend. Emily has been shearing professionally for six years.

She is the only female shearer in her gang. Emily competes alongside men around the show circuit throughout the North Island and more recently Australia.

Emily Welch gained second place in the senior grade at this year's Golden Shears at Masterton, and sixth at the New Zealand championships in Te Kuiti. Her most recent show was Warrnambool, Victoria, Australia where she controversially placed second in the seniors.

Welch, who began her bid at Waikaretu, south of Auckland, at 5 am, celebrated by having a sleep, TV3 said. Presumably, she did not need to count them.

Link:
Fastest Female shearer video
[ Submit a world record ] [ World Record Certificate]
[ Book of World Records ] [ World Records Store ] [ Club ]


Strongest Ear-Lasha Pataraia


Youngest Skydiver-Valentina Mihanciu


Fastest race around the 'World'-Rohan Veal


Largest passenger plane-Airbus A380


Fastest 10K race-by Hillary Kimaiyo


Most 10 scores at Olympics-Nadia Comaneci


Largest Simultaneous Thriller Dance


Fastest board breaking-record set by Mitch Ellis