Thursday, May 3, 2012

Smallest Puppy: Milly the chihuahua breaks world record (PICS & Video)

DORADO, PR, USA--At 5.9 ounces and 2.6-inches long, Milly, the tiny chihuahua from Puerto Rico, owned by chihuahua breeder Vanesa Semler, sets the new world record for the Smallest Puppy, according to the World Record Academy: www.worldrecordacademy.com/.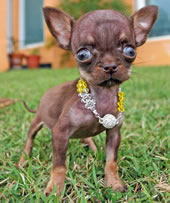 Photo: Milly the chihuahua in Vega Alta, Puerto Rico. She weighs about 7 ounces and is 3 inches tall.
(enlarge photo)

The Guinness world record for the smallest dog living, in terms of height, was set by a long-haired, female Chihuahua called Boo Boo, who measured 10.16 cm (4 in) tall on 12 May 2007 and is owned by Lana Elswick of Raceland, Kentucky, United States.

Guinness World Records also recognized the world record for the smallest dog in terms of length, set by Heaven Sent Brandy, a female chihuahua who measured 15.2 cm (6 in) from the nose to the tip of the tail. Brandy lives with her owner, Paulette Keller in Largo, Florida, USA.

The 3-month-old pooch lives in Puerto Rico with her owner Vanesa Semler, and weighs less than a pound (she's 5.99 oz., to be exact).

And while she may look a bit ratlike to some, Milly's a midget compared to the average New York rat, which is around 10 inches long and 9-12 ounces.

On the Net: http://www.miraclemilly.com/

Milly, just 3 months old, hasn't grown since birth.


Photo: Milly's owner has said that the pint-sized pooch was so small at birth they had to feed her with an eyedropper as her mouth was too small to breastfeed. (enlarge photo)

Her owner, Vanessa Semler, says she would use Milly's spotlight to raise awareness on how to properly care for dogs she told Fox News Latino.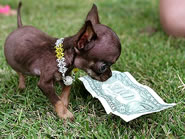 Semler owns 14 dogs.

(enlarge photo)

"I would definitely use that platform to tell the world that we all need to share responsibility on caring for pets," Semler said.

Related world records:
Smallest Puppy: 'Beyonce' sets world record (Video)

Longest ears on a living dog: Harbor set world record (HD Video)

Ugliest Dog: Yoda sets world record (Video)

First Dog Kitchen: TrueFoodForDogs

Most expensive dog: Red Tibetan Mastiff "Big Splash" (Video)

World's Ugliest Dog: Princess Abby

Fastest Skateboarding Dog: Tillman the bulldog

Smartest dog: Betsy

Tallest dog: George

Oldest Dog: Max the terrier

Tallest dog: Boomer

Oldest Dog: Chanel

Monday, February 9, 2015 10:34 AM