Monday, May 23, 2016

Longest cucumber: Keegan Meyers breaks Guinness World Records record

SYDNEY, Australia -- Keegan Meyers, 13, from the Eyre Peninsula has grown the world's largest cucumber - 1.3 metres long and weighing five kilograms, according to the World Record Academy.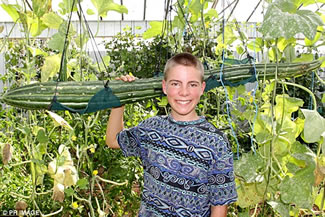 Photo: Teenager Keegan Meyers pictured with his world record cucumber in the glasshouse, measuring 1.3 metres long and weighing five kilograms. Photo: AAP Image/Keegan Meyers (enlarge photo)

The Guinness World Records world record for the most cucumbers harvested from a single plant in one year weighed 943 kg (2,078 lbs). The cucumber plant is at the Epcot Science project at Walt Disney World Resort in Lake Buena Vista, Florida, USA. The harvest started on 24 March 2006 and ended on 5 July 2006. 2,563 cucumbers were harvested in total.

Guinness World Records also recognized the world record for the longest cucumber; it measures 107 cm (42.1 in) and was grown by Ian Neale of Wales, UK. It was presented at the Bath & West Showground in Shepton Mallet, Somerset, UK, on 26 September 2011.

Keegan Meyers, 13, began growing the heirloom sweet and striped cucumber on the Polda family farm in January.

The World's Longest Cucumber was given a healthy mix of fertiliser, cow manure and worms inside a glasshouse.

It officially measured 130.5cm long when it was picked on April 13. It beat the previous world record of 119.5cm held by a British grandmother.

The new world record was verified by the Australian Giant Pumpkin and Vegetable Society earlier this month.

Related world records:
Tallest sunflower: Hans-Peter Schiffer broke Guinness World Records record (VIDEO)

Heaviest strawberry: Japanese strawberry breaks Guinness World Records record (VIDEO)

Heaviest Pumpkin: Ben Meier breaks Guinness World Records' record (VIDEO)

Heaviest Onion: Tony Glover breaks Guinness World Records' record (VIDEOS)

Heaviest tomato: Dan MacCoy breaks Guinness World Records' record (VIDEO)


Largest mattress: Dolidol Maroc


Most people making heart-shaped hand gestures: Carrefour Belgium