Tuesday, November 1, 2016

Heaviest peach: Mark Angermayer breaks Guinness World Records record

Stilwell, KS -- Mark Angermayer, the owner of Tubby Fruits Peach Orchard in Kansas City, picked a "Lady Nancy" peach that weighed 1.68 lbs (763.39 grams) and measured 4.6 inches in diameter, thus setting the new world record for the Heaviest Peach, according to the World Record Academy.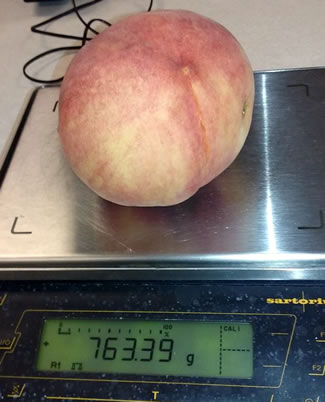 Photo: Angermayer had the peach, which was grown in the backyard orchard at his home in Stilwell, weighed. The peach weighed 763 grams and measured 4.6 inches in diameter. The current Guinness World Record is 725 grams and is held by a Michigan man. (enlarge photo)

The Guinness World Records world record for the Heaviest peach was set by Paul Friday from Coloma, US, with a 725 grams peach in August 2002.

Guinness World Records also recognized the world record for the largest fruit cobbler; it weighed 1,021 kg (2,251 lbs) and was made by the Hampton Inn of Ruston (USA) for the 65th Annual Louisiana Peach Festival in Ruston, Louisiana, USA on 27 June 2015. The peach cobbler ingredient included 819 lbs of peaches, 312 lbs of butter, 343 lbs of flour, 73 gallons of milk, 1 lb of baking powder, 454 lbs sugar, and took 6 hours to cook.

The Stilwell man lost most of the blooms on the 30 peach trees in his backyard to a late frost. (His main Belton orchard consists of about 400 peach trees.)

With a limited number of peaches to support, a large tree produced several dozen peaches that were "just huge," Angermayer told the Star.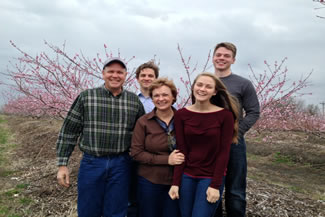 Photo: Meet the Angermayer family. "We took this picture on a very chilly and windy spring day when the orchard was in bloom. A peach orchard in bloom smells very nice. Left to right - Mark, son Gabe, Helen, daughter Megan, son-in-law Ian."(enlarge photo)

Angermayer had the peach, which was grown in the backyard orchard at his home in Stilwell, weighed.
The peach weighed 763 grams and measured 4.6 inches in diameter. The current Guinness World Record is 725 grams and is held by a Michigan man.

Related world records:
Longest cucumber: Keegan Meyers breaks Guinness World Records record

Tallest sunflower: Hans-Peter Schiffer broke Guinness World Records record (VIDEO)

Heaviest strawberry: Japanese strawberry breaks Guinness World Records record (VIDEO)

Heaviest Pumpkin: Ben Meier breaks Guinness World Records' record (VIDEO)

Heaviest Onion: Tony Glover breaks Guinness World Records' record (VIDEOS)

Heaviest tomato: Dan MacCoy breaks Guinness World Records' record (VIDEO)


Largest mattress: Dolidol Maroc


Largest lip dub: City of Vic


Longest playable stringed musical instrument: CapitaLand Singapore

Largest display of toy windmills: energis GmbH


Most People Waving Hands Simultaneously: AG Insurance