Biggest Horse-world record set by Luscombe Nordram

[March 31] PAKENHAM, Australia--Luscombe Nordram, a 20.1 hands (2.057m) tall horse who weighs over 1.3 tonnes (1300kg) , has set the world record for the biggest horse.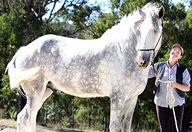 Photo: Noddy, the 2.057m shire horse, and owner-trainer Jane Greenman. Picture: Ian Currie

(enlarge photo)

Horse trainer Jane Greenman, 47: "It sounds like a mountain moving when he gallops across the paddock to come and get his breakfast," she says. "He eats an incredible amount. I would hate to run a team of eight horses his size - it would send you broke."

The massive horse was born in Australia to a mare and sire imported from England.

But Jane had no idea that the foal she hand-reared from the age of six months would grow this big. Noddy immediately began to rocket and soon overtook both his parents in size. "Every year I measure him on his birthday and we discovered that he was getting really huge."

"The nearest is a horse in Texas, at 20 hands," says Jane.

"The scary thing is he still hasn't finished - shire horses aren't fully grown until they're about six or seven".

Jane has hinted that Noddy could be sold overseas, possibly even fetching a record price to match his height. She is reluctant to sell, but to fund the immense cost of keeping him she needs to put him to work.

Despite Noddy being trained to harness heavy loads, this is not easy for a horse his size. "He needs a job. It's very hard to find jobs for such a big horse in Australia. I wish he could stay here but I've tried everywhere," she says regretfully.

"I just want people to enjoy this beautiful animal as much as I do."