Wednesday, July 13, 2011

First Synthetic Organ Transplant: Man's New Windpipe sets world record (Video)

Stockholm, Sweden -- Surgeons from Karolinska University Hospital have carried out the world's first synthetic organ transplant, after scientists in London created an artificial windpipe which was then coated in stem cells from the patient.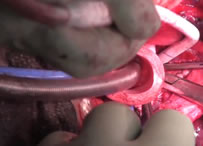 Photo: A 36-year-old man who had tracheal cancer has received the World's First Synthetic Organ Transplant. Photo: Karolinska University Hospital (enlarge photo)

The Guinness world record for the First heart-lung transplant was set by Dr. Bruce Reitz (USA), who performed the first successful combined heart-lung transplant at Stanford Medical Center, Stanford, California, USA.

Guinness World Records also recognized the first successful heart transplant operation, performed by Prof. Christiaan Neethling Barnard (South Africa, 1922 - 2001) and a team of 30 physicians on Louis Washkansky (South Africa), at the Groote Schuur Hospital, Cape Town, South Africa.

The procedure required the coordinated efforts of scientific teams in London, Massachusetts and Stockholm, Sweden, where the windpipe was surgically implanted.

The artificial trachea was transplanted on June 9 in a 12-hour surgery led by Dr. Paolo Macchiarini, a pioneer in engineered trachea transplantation, at the Karolinska University Hospital in Stockholm.
The patient appears to have accepted the new organ well, doctors said.

The patient, Andemarian Telesenbet Beyene, a 36-year-old geology student from Eritrea, had been suffering from late-stage tracheal cancer. A rare, aggressive tumor was blocking his windpipe making it hard for him to breath.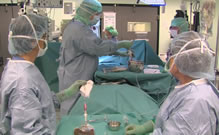 Photo: A cancer patient undergoes the world's first transplant operation using a synthetic organ. Photo: Karolinska University Hospital (enlarge photo)

Diagnosed in 2008, Beyene had failed every conventional treatment including chemotherapy, radiation and surgery. He was running out of time, so rather than wait for a donor trachea for transplantation, his doctors suggested growing his own in the lab.

The organ, implanted in a 36-year-old Icelandic man suffering from tracheal cancer, consisted of an artificial, trachea-shaped scaffold that had been lined with the patient's own stem cells.

The cells take just a few days to grow around the scaffold, said the researchers from the Karolinska University Hospital in Stockholm.

Because the organ included the patient's own cells, the patient did not need to take immunosuppressive drugs to prevent a rejection of the organ, the researchers said.

Crucially, the technique does not need a donor, and there is no risk of the organ being rejected.

The polymer scaffold was made by Alexander Seifalian at University College London.
The bioreactor that would hold the trachea and incubate it with Beyene's stem cells was created by Harvard Bioscience, near Boston. The scaffold and bioreactor were then shipped to Stockholm, where the solution containing the patient's stem cells was added.
The final product was days in the making, versus the months it could have taken to locate a donor organ.

The surgeons stress a windpipe can also be made within days. The 36-year-old cancer patient is doing well a month after the operation.

Paolo Macchiarini, who led the research team, previously performed a "tissue-engineered" windpipe transplant on a patient in Spain in 2008. However, in that case, the transplant used part of a trachea from a donor as the scaffold, which was then coated with the patients' stem cells.

The patient is now on his way to recovery and will soon be release from the hospital, the researchers said.

The same technique might one day be used to replace other organs, the researchers said.

Related world records:
Oldest Surgery Patient: 100-year-old patient

Most breast augmentation surgeries performed: Ted Eisenberg (Video)

Most whole blood donations: Phil Baird

Oldest Practicing Doctor: Dr Walter Watson

Most eye operations: Tatyarao Lahane

Most kidney stones removed from a patient: Dr. Ashish Rawandale

Largest Breast Implants: Sheyla Hershey

Hairiest Girl: Thai girl Supatra Sasuphan

Wednesday, July 13, 2011