Longest Radio Show-world record set by Johnnie Walker
[Aug 13] Greensboro, NC, US--Johnny Walker with WUAG, 103.1, broke the world record Saturday for the longest single DJ on-air broadcast.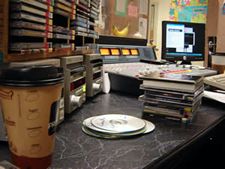 Walker says he's spent months planning. He has been eating a well-balanced died, taking vitamins and of course drinking caffeine.

The previous record was 125 hours. Saturday, Walker surpassed that and kept going. He says he wants to hit 175 hours on air. That's more than eight days (one-hundred and seventy-five hours) straight.

Walker says he's received calls from as far away as Ireland and Belgium to show support. His broadcast is scheduled to end at 3:00pm Monday, August 13.