Most surfers on a single wave -world record set in Brazil

[Sep 4] SANTOS BEACH,Brazil--Competitors in Brazil have set a new world record for the number of surfers on a single wave in aid of a global environmental campaign.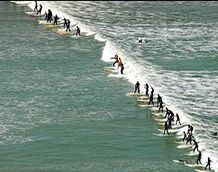 Officials said that 84 surfers managed to ride a wave together for at least five seconds at Santos beach.
The event took place simultaneously in seven countries, including Australia and South Africa which set the record at 73 in 2006.

One surfer said: "Look after our coastline. Create more awareness for what is actually going on. Make more surf spots available for the rest of our kids out there."

Following in the footsteps of music festival Live Earth which took place in eight countries, The Earthwave project invited surfing organisations across the world to highlight global warming issues by staging the record-breaking attempts.