Saturday, December 4, 2010
Most people spinning dreidels : Yeshiva University students set world record
NEW YORK, USA--618 students, parents, faculty, and neighbors sat around in groups showing off their dreidel spinning skills at Yeshiva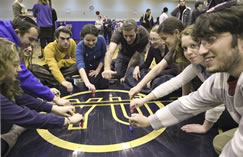 University in Washington Heights in what was dubbed "Dreidel-Palooza," a fundraising event to help raise money for undergraduate student aid and scholarships - setting the new world record for the Most people spinning dreidels at one time.
(enlarge photo)
A dreidel is a four sided spinning top with a different Hebrew letter on each side; the game of dreidel is traditionally played during the Jewish holiday of Chanukah.

The "Dreidelpalooza" event is also a scholarship fundraising event. It happened at the school's athletic center at 184th Street and Amsterdam Avenue.

Families and students sat around in groups showing off their dreidel spinning skills. Some balanced the four-sided spinning top on the palm of their hand. Others flicked it into the air making it spin as it hit the floor. Participants from the Major League of Dreidel also took part in the event helping to teach children how to play various games in the "spinagogue" game board, a star-shaped board that encases the dreidel while it spins. "The object is to get the best possible spinning time in three different rounds," said Pete Marinucci, a league member.
According to Guinness World Records, the largest game of duck, duck, goose involved 1,415 participants at the University of Guelph, Ontario, Canada.
The event was organized by Students Helping Students, a campus organization that fundraises for undergraduate aid. "Hopefully they will all land in 'Gimmels,'" said Fiona Guedalia, co-president of the Students Helping Students organization, referring to the Hebrew letter on the side of the dreidel that means "all." "We are hoping everyone comes out a winner, especially those who can benefit from the scholarship money we are able to raise."
"People are really excited. They think it's cool," said Jason Katz, whose group Students Helping Students will benefit from the dizzying display. "It's something everybody who's involved can tell their kids, tell their grandkids - I was part of a world record."

The event was co-sponsored by Major League Dreidel, the first ever official dreidel league.
Subscribe to our free RSS News feed to receive updates.

Related world records:
Largest gathering of people with mustaches: Minnesota hockey fans set world record

Most Santa hat wearers in one place - Brockton

Largest Group of Carol singers - Credit Union Christmas Pageant

Most people participating in a lip dub - City of Vic sets world record

Largest Bikini Parade - Nashua Bikini Parade

Largest Halloween Party - New Orleans Saints fans sets world record

Largest 'Chi-Kung Eight Brocade Coils' Exercise - Lifetree

Largest piggyback race -The History Maker Foundation

Most People Sanitizing Hands - Philadelphia Union fans

Largest Zumba Class - North Lanarkshire Leisure

Largest Superhero Gathering - Megamind event

Largest Redhead Gathering - Redheads Festival

Most people stepping on grapes simultaneously - Labastida

Largest Harmonica Ensemble - Houston Astros Fans

Most Ballerinas on Pointe - NYC ballerinas

Longest Moving Wheelchair Line - Christopher and Dana Reeve Foundation

Largest water balloon fight - BYU students

Longest Chicken Dance - Mandan Parade

Most people floating on noodle - Weatherby Lake residents

Largest Naked Bike Ride - World Naked Bike Ride

Largest Yoga Class - Flavorpill and JetBlue

Most people dressed in green - The Green Festival

Most people crocheting - Mets fans

Largest clog dance - The Pella Tulip Festival

Most People Hula Hooping - Beaminster students

Longest human shoulder massage chain - WUSTL

Largest Waltz - Tuzla

Largest Robot Dance - Simon Fraser University

Largest chemistry lesson - Hooked on Science

Most people participating in a lip dub - Grandville High School

Most People Contributing to the Same Painting Simultaneously - Delaware artists

Largest gathering of people wearing fleece blankets - Cleveland Cavaliers Fans

Largest Tamburitza Orchestra - tamburitza band "100 tamburasa"

Most people dressed as Star Trek characters - Namco Bandai Partners

Most Scuba Diving Santas - Yorkshire Divers Group

Largest gathering of Santa's Elves - ABC Family

Most people singing the same song in different languages - Glasgow University

Most Santas skating in a Conga Line-Warwick Castle

Largest gathering of storybook characters-Carrs Glen Primary School

Most People Crammed into an Old-Style WV Beetle - Bug Jam

Largest Bikini Parade - Kellogg Company

Largest Singing Lesson - Sweet Adelines International

Largest coffee party - Kruger

Most surfers on a single wave - Cape Town surfers

Most people running in stilettos - New York

Largest all-female skydiving formation - 181 skydivers

Longest massage chain - National Young Volunteers Service

Largest Can-Can dance - world record set by Irn Bru

Most hammered dulcimers on stage - ODPC Funfest

Largest Plastic Duck Race - The Great British Duck Race

Most combine harvesters working simultaneously- Combines 4 Charity

Largest Cheerleading Dance - Baskin-Robbins sets world record

Largest gathering of people wearing underpants - NYC

Most participants blowing conch shells simultaneously - Sundowners Restaurant

Largest group shower - Pert Plus and Six Flags Great America

Largest Bikini Parade - Las Vegas

Largest Gathering of ABBA Impersonators - Betfair

Most people shaking hands in one place - Shanghai students

Largest Bride Parade - Bucharest

Largest gathering of people dressed as Waldo - Rutgers University

Saturday, December 4, 2010